Posts Tagged 'Things to do in the OC'
Living in Orange County means we have national tourist spots in our backyard. One of our flavor-favorite spots is Pretend City! (I've posted about Pretend City before.) So so so fun for little ones. And they were nice enough to donate favors to my pinterest party. THANK YOU thank you THANK YOU!!
Eli got to go on a field trip to Pretend City in June. He hated it:
Pretend City was created for kids like Eli. Imagination at it's funnest! (Hey, that would be a great tag line. You have my permission to copy me Pretend City.)
If you are looking for something to do this Friday check out "When I grow up" day. Your kiddos will get to meet: Angels Baseball Player (he's now retired), Doctor, Personal Trainer, Shoe Designer, Dentist, Firefighter, Policeman, Lifeguard, Chef, Hairdresser and more!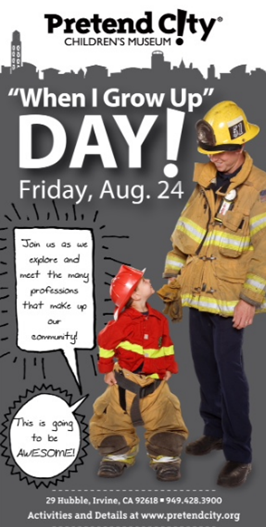 Or Parent's Night Out, Children's Night In – Treasure Hunt! on Friday, August 31 from 6:00pm – 9:00pm. For all kiddos 4-8 years old. It's $35 per child, $30 per child for two or more children from the same family, $25 per child for members. And the kids will learn how to make maps of Pretend City and watch Muppet's Treasure Island. You have to register for the Parent's Night Out by 8/29/12 so check out this link for details.
I thought I would share my Top 10 Tips for those of you going to the OC Fair (or any local fair) because I'm super mom.
Now presenting…
Top 10 Tips for the OC Fair from a Super Mom… (me)
OC Fair Tip #1: Forget your sunglasses.
There is nothing better than squinting your way through the crowds while your two-year-old bolts to the nearest shiny attraction.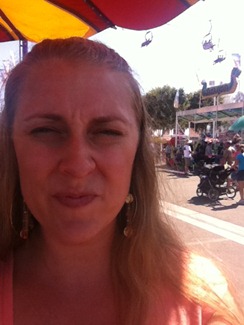 OC Fair Tip #2: Don't bring sunscreen.
You'll thank me later when your husband's head looks like a tomato and you have a kick a&$ farmer's tan. All that skin "cancer is caused by sunburn" research is bogus anyway.
OC Fair Tip #3: Be sure to go to the OC Fair at the hottest part of the day. 
When your knees are sweating, you know you got it right. (This will really heighten the impact of tips #1 & #2)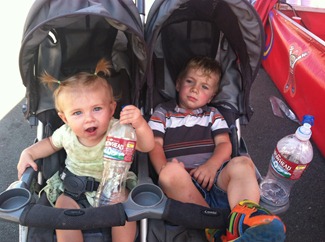 OC Fair Tip #4: The OC Fair is great for little kids.
Especially if they are under 36". They won't mind at all if they can't go on any rides. NOT ONE RIDE!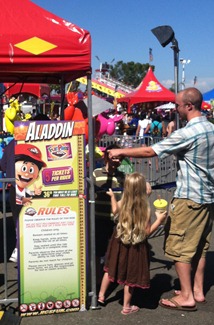 OC Fair Tip #5: Play the fishing game in Kid Land. 
Even if you lose, your kiddo will get a light saber. And we all know a three foot light saber is the perfect toy for a crowded place, especially in the hands of a two year old. And it's only 10 freakin' tickets. (He has mad skillz, right?)
OC Fair Tip #6: Bring water and snacks.
Unless spending $50 on water and animal legs is your thang.
OC Fair Tip #7: Try to have a minimum of two bathroom trips per child.
The first trip is just a teaser for the second trip, which includes #2 (if ya know what I mean), a potty that doesn't flush and roughly 4 squares of toilet paper.
OC Fair Tip #8: Stand next to the balloon pop game.
The balloons popping pierce your ears like a gun shot and your 4-year-old might even find a chew toy… from the ground.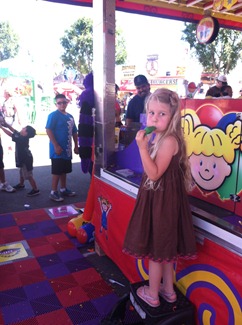 OC Fair Tip #9: Do the petting zoo near the green gate.
Seriously. It's free. They have refreshing water misters to keep the animals cool and your lil' animals will get to learn first hand how goats poop. (This really is fun and is always a huge highlight for us and they have the cutest baby pigs right now)
OC Fair Tip #10: You can't take tickets home, so give them away.
No matter how you plan it, you will always have a few tickets left on your card. Not quite enough for a ride or a game. Head on over to a ticket line and let your kids pick another kid to bless. We had a great conversation with our kiddos about giving and prayed for the kiddo who would receive our tickets. They picked a kid wearing a giant cowboy hat and it was SO MUCH fun to watch the excitement Eli and Cora Jane had about blessing another friend.
###
This post is a bit silly, but we actually had an awesome time. REALLY! We love love love the OC Fair. Check out this OC Fair post from 2009 about the awesomeness. (I'm going to try to post some pix from last year soon!)
AND…
I got an email today about a FREE movie at the OC Zoo. We already have plans that night, but I wish we were going! Here are the details…
Event: Zookeeper at the OC Zoo
Location: OC Zoo, 1 Irvine Park Road, Orange, CA 92869
Date Friday, August 10
Time: 5 to 10 p.m. (movie starts at dusk, 7:45ish)
Cost: Free
Parking: $3
Clip from the movie…
Every Summer we look forward to going to Pageant of the Masters. We've gone every year since we started dating in 2004. It's fun. If you live in OC you should go. It's a great excuse to get dressed up, hang with your friends, and see some amazing art (and make fun of the really strange "art" too).
2008 & 2009…
2010 & 2011
Part of our tradition is to go to Taco Loco in Laguna Beach. It's a glorified taco stand with vegan food. (Warning: I think smoking pot and dreadlocks are a prerequisite for working there.) So yummy. If When you go, get the Blackened Mushroom and Tofu burger. It won't disappoint!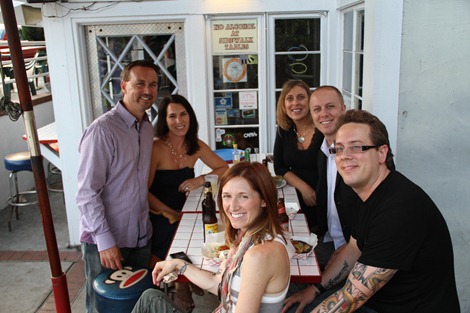 We went last night and since I'm writing this post ahead of time I'm assuming we had a blast, as usual.
Last year we took the tram back to the car and the driver started group singalongs.
It was like a musical come to life.
Which was like a dream come true for me.
REALLY.
We caught the tale end on video…

We always buy our tickets in January, right after they go on sale, but I just got an email saying they are 50% off right now! So if you have a spare night this month you should check it out!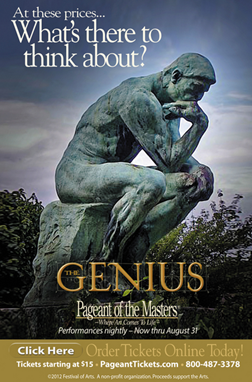 I'm not sure why, but this picture from last year makes me smile…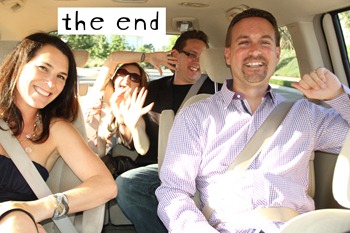 Happy Saturday!
Sometimes I'm lucky enough to go to new places in Orange County. (FUN!!)
Everyday I deal with a lot of poop. Not the theoretical 'this sure was a poopy day' more like, 'if I have to change one more poopy diaper I'm going to scream'.  (POOP)
###
I was invited to Bel Bambini to see the launch of their designer clothing section. Super cute clothes by all sorts of designers. The store has really great mock baby room set-ups and is a great place to get some inspiration for a new little one's nursery (fun). As we are unloading the car Tess had a huge blow out (poop). With almost all the wipes and a new outfit the crisis was averted.
We head on into the beautiful store and Cora is lounging in one of rockers, as she moves her feet I notice she left some mud on the foot rest. Upon closer inspection, I discover this isn't mud.
Yep. Dog poop.
But remember the blow-out from minutes before? The one where we are down to the last wipes. Two to be exact.
Blarg.
My Hubby takes Cora Jane for clean-up with one wipe and a jazillion paper towels (and dry heaves).
I'm standing off to the side of the soiled chair, trying to make eye contact with any store employee while digging in my diaper bag for napkins, hand sanitizer and the LAST wipe. And a lady from around the display looks at Cora Jane leave and freaks out over audacity of 'these people' to leave the mess. I walk the two steps to her to say that I'm doing my best to get everything cleaned up. She tells me she is the designer of the chair. The designer!!! And I'm thinking my daughter just got dog poop (except I wasn't thinking poop) all over this chair and of course the designer is here. Said designer calms down after discovering I didn't abandon the mess. And tells me she designed the chair to be cleaned up with wipes. Sure enough it cleaned up great!
We got to explore the new section of the store and my kiddos got to play with their blog friends. I use the term 'play' loosely because this is what they were doing…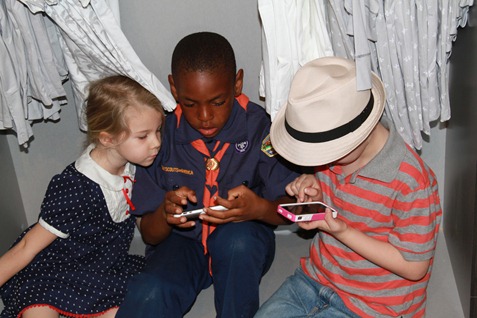 One of the booths in the store was a company called Box of Play. Loved them! You know how your kiddos play with an empty box for hours? Well Box of Play has large environmentally friendly stickers for the boxes to make them into something. i.e. an egg carton into a piano or macaroni and cheese box into a camera. I think this is a great idea!
Bel Bambini featured my gift giving guide for 1-year-old boys on their site. See..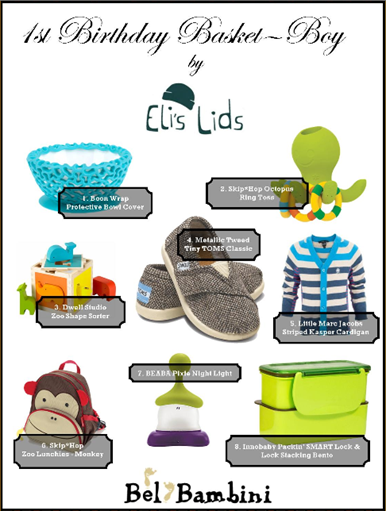 The only thing missing? An Eli's Lid of course!
This week I was invited to see the new Whole Foods Market in Laguna Niguel. Wow that store is beautiful!
(Below is a pic of the wall made of old carpet… felt like particle board and me in front of some tile placed vertically subway style. Super modern and clean looking!)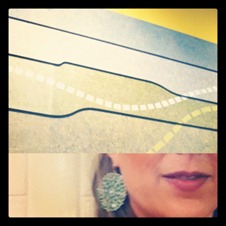 I was tempted to ask all those construction workers to bee-bop on over to our new place and get some work done. Cuz I'm just about to go crazy with all the projeccts. Crazy. CRAZY.
I'm pretty stoked about the new store though. Not because we are super healthy or super Green. Because they are going to have free cooking classes. FREE!! (FUN!) One they mentioned was cooking in bulk. I need that. I hate strongly dislike cooking. I'm hoping to get a bunch of friends together for a few of the classes. Any locals interested? If we have enough peeps, maybe they can hold one just for us? (I haven't asked or anything but ya never know.)
The kids were unexpectedly with me, but they did great OK and had a lot of fun. Plus I caught this picture in front of the store and it makes me giggle. We had to leave a little early though because someone had a full diaper (poop).
If you are a local (or have a Whole Foods near you), be sure to fan them on FB to hear about all the events specific to your store! Click here for Laguna Niguel FB page.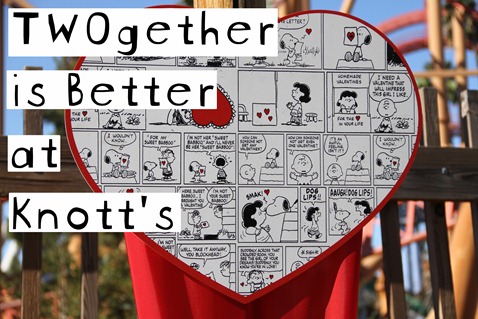 We got to spend today at Knott's Berry Farm for their TWOgether is Better celebration. Running from February 1st–28th, Knott's is offering discounted online admission for only $34.99 each! Season Pass holders can also bring-a-friend for just $24.99 all month long! (Fun side note: Leap Day Special- One day only- February 29, 2012 everyone gets in for $29.00!)
Knott's has all sorts of Valentine-sy things going on for February, like…
The Peanuts characters are dressed in red and pink V-day ensembles.
Cy loved Snoopy…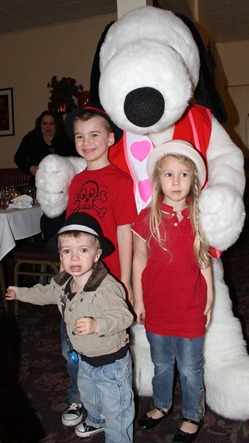 "Love is in the Air, Charlie Brown!" is playing at the Camp Snoopy Theatre. My kiddos love the shows there. It's funny
And there is a hugging booth… (fyi if you want a hug like that from me, it's not free. Not that I charge for a butt squeeze… or that I give them for free… um… never mind.)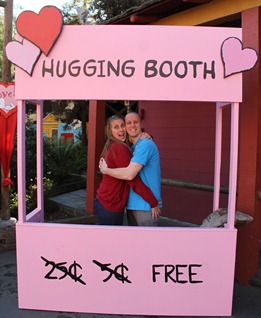 You know I had the whole fam-damily coordinating in traditional Valentine's Day reds.
I can't even tell you how happy it makes me to see my kiddos matching.
Like all is well with the world.
I'm odd.
But likable. (Thx Aunt Patti B for Tess's heart onsie!)
Of course Knott's always has rides rides rides!
Up to now, we have been able to camp out in Camp Snoopy (pun intended) but this trip I think Eli might have been ready for some big kiddo rides. Maybe a Guys Night Out with Daddy soon!?!
Cy is finally tall enough for the Camp Snoopy rides. He was LOVING it! And yes that is a shaggy, white trash, hipster, faux hawk. Prepping for the fedora photo shoot.
Another fun thing during TWOgether is Better are these chocolate dipped goodies at the Ghost Town Bakery. Warning: you dip and decorate them yourselves and it can (will) get messy… but yummy!!
Cy was a gonner by the afternoon and fell asleep with his fedora over his face.
Old man style.
It was awesome!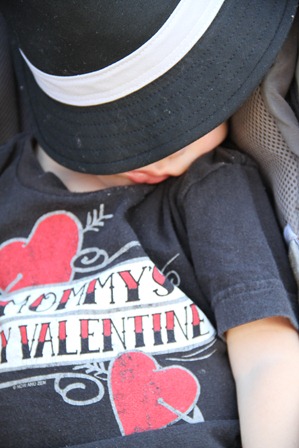 P.S.
How do you like our new fedoras?????
I'm deciding whether to call them Hipster Lids or Rat Pack Lids.
Thoughts????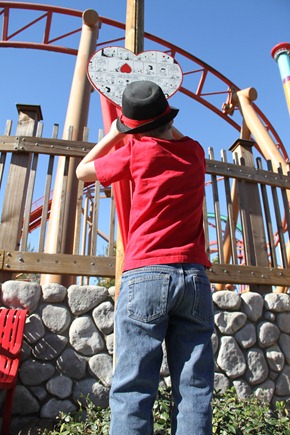 P.P.S.
Have you entered our Valentine's custom card giveaway yet??? Do it now here!!