Posts Tagged 'Rainbow Puppy Party'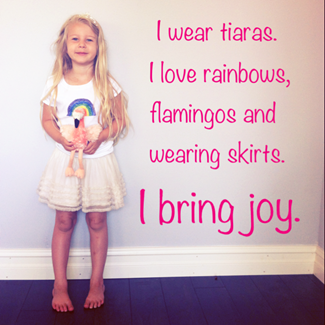 I have a little girl.
She dances to the beat of her own little drum.
A drum that's orange, covered in rainbow sparkles with puppies, and flamingos jumping out.
She picks out her own clothes.
She's scared to get her ears pierced.
She might really think she's Rapunzel.
She likes what she likes.
From the depth of her pretty little brain she came up with a rainbow puppy party.
Here's how it went…
We remembered to do a family picture before the party, in hopes of getting a good shot before the party sugar set in…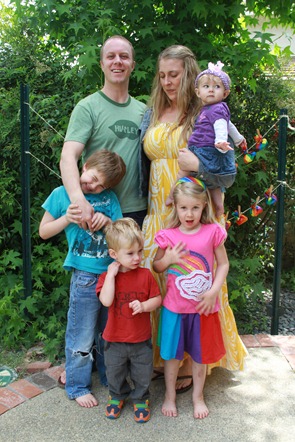 Um… that went well.
I made Cora Jane's skirt out of Dollar Tree tee shirts. (It came out really cute and I hope to share how it's done soon!)
Favors: All from Oriental Trading company. Rainbow stamps, tattoos and candy bundled up in rainbow bandanas. They added so much color outside. 
I cut each large bandana into 4 squares for the bundles. And I couldn't believe Oriental Trading Company had rainbow colored "dog bones" (I think they are meant to be skeleton bones for Halloween) and bright paw print stamps. Total score. Double sided stamps and rainbow tattoos finished off the favors. Total cost was about $1.25!
Menu: Pizza, a rainbow of fruit and veggies, chips and every color of Gatorade.
Big Mama pizzas from our favorite, Rosa's Pizza. Each pizza has 45 slices. The fruit was set out in rainbow order – red apples, watermelon, strawberries, sliced oranges, carrots, yellow tomatoes, yellow raspberries, bananas, snap peas, cucumbers, blueberries and purple grapes. (This was the first party we ran kinda low on the main dish. It was pretty rad to NOT have leftovers, but we should have gotten another smaller pizza to add to the bunch.)
Décor: Rainbow and puppies. (hehehehe)
I covered our unfinished counters with bright table clothes and used the leftover bandanas as runners. I used paper plates to camouflage the unfinished backsplash (pictured above with the fruit). We didn't fool anyone, but it looked festive. I made a rainbow-puppy-paw-print fabric strip banner for behind the cake and my talented friend Jill created a rainbow puppy graphic for me to print, and I hung it up all over the place. We found some great rainbow flower windmill things at the Dollar Tree and placed them around the yard. But my favorite favorite favorite part were rainbow the colored lanterns we hung in our kick a$& tree. I LOVE THEM! I've kept them up and every time I look in my yard they make me smile. I think I'll go look at them now… (sigh)… happy heart.
Cake: I love custom cakes but there is just something special (to me) about making my kiddo's birthday cakes. That being said, when you can get a cake for $10 at Sam's Club and 30 cupcakes for $13… I let "the club" do the baking and background frosting and I just spice it up a bit! (I do this for almost all our parties.) For Cora Jane's cake I added a rainbow banner, a puppy candle (had to get a dozen at Oriental Trading and only used one, so if you want some just shoot me an email and I'll bless you with some happy puppy mail!), the rainbow dog bones (from the favors), and rainbow sour belts. Each cupcake got a rainbow puppy, a rainbow, and dog bones of their own. It was cute.
Cora Jane loved it…
Then we beat the heck out of a rainbow. I'm not sure why, but I'm a huge fan of pinatas. I feel like a party without a pinata is just hanging out… I'm strange. 
Group shots are another of my party MUSTS…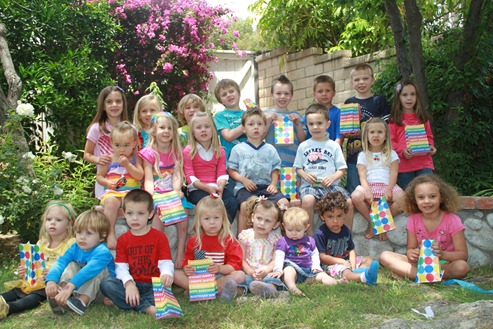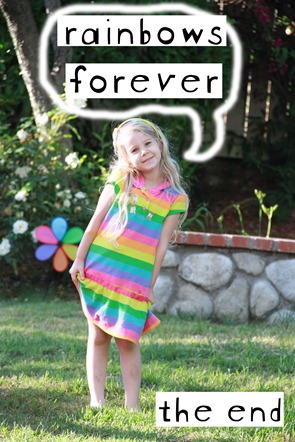 Cora Jane wants a rainbow puppy room. Because, of course she does.
But that's awesome because I can use the banner and extra bandanas as room décor. I also found this awesome rainbow fabric for curtains. She hated it. Oh wait… the opposite of that…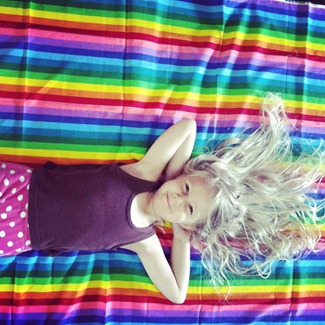 House stuff is slowly moving along now and I can't wait to share pix!
Happy Day Friends!
Easter is over. Now we have a bit of a holiday break before the 4th of July. Usually this is my kiddo birthday party planning break time as well, but this year Cora Jane wanted her birthday in the new house and we said yes.
I'm not sure why.
Now there will be a 4 month gap between her actual birthday and her party. That bothers me… not sure why (again). While the party is in 'birthday limbo land' I have had loads of time to prep and collect bits and pieces here and there for the event. And I've had time to think about the date of Cora Jane's birthday – it's on Valentines day. I feel like she is a bit short-changed when it comes to "her" day. (I've talked about it at length before.)
I like to to a little family celebration for Valentines Day – just a special dessert or fun dinner with a little valentine for each kiddo. Every year I agonize over the fact that Cora Jane is cheated on her birth "day." Then after all is said and done, I make the decision to celebrate Valentines on the evening before, on the 13th, then have Cora's birthday celebrations on Valentines Day. The problem is, I ALWAYS realize that after Valentines, and everything is all mushed together. Then I feel guilty. Isn't mom guilt the most ridiculous thing ever!?! She doesn't even notice and I've only had 4 chances to work this whole thing out AND she won't remember those 4 any way. What-evah.
On birthdays around here I do candles in everything they eat during the day along with the birthday song. Super fun, simple and the kiddos LOVE it!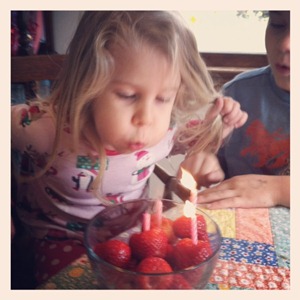 Cora Jane picked Rosa's Pizza for her birthday dinner. So almost all our pictures have Bud Light banners in the background. Lovely.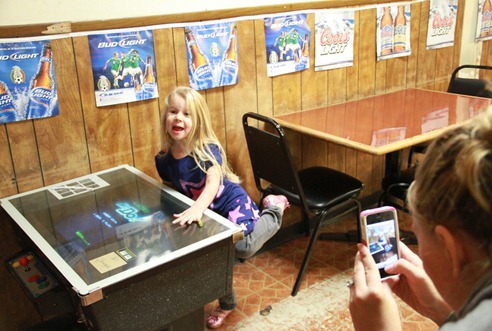 I love everything about these pictures… 
My mom gave the favorite gift of the evening. Unlimited quarters for Little Miss to use on the vending machines. Almost like a party game.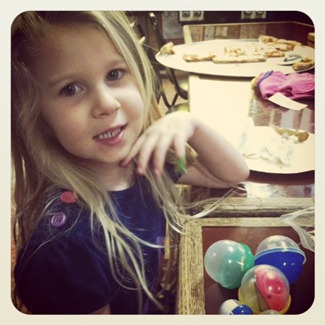 In case you are wondering about her chosen theme… it's Rainbow Puppy.
What is Rainbow Puppy? (you ask)
Well, I have no idea. Something from her sweet little head and we just went with it. I found paw print wrapping paper at the dollar tree and paired it up with colored ribbon. I've also found fun rainbow stuff at Oriental Trading for the favors!
My cousin came over last weekend and we did a little experimenting with food coloring and sour belts. Good times. 
Now, if we can just finish up that house we can actually have this Rainbow Puppy shin-dig!