Posts Tagged 'natural childbirth'
Everyone loves a good labor story.
Or a bad labor story.
At least I do!
Here is how it (or she) went down…
My due date was September 20th. But since all my babies have come really early or really late, I wasn't counting on a due date baby. All I knew I wanted was an even number birth date… because all my kiddos were born on an even number. Ideally the 18th or the 20th because my others are 14, 16 & 22 so it would fill in the gaps.
OCD much?
The night of the 20th I started having some contractions. The kind you can't sleep through. I got up at 2am (on the 21st, darn it!) and fished out What to Expect When You're Expecting to see if I really was in labor.
Even though I've done this 3 times before, I wasn't sure. The last thing I wanted to do was get all the kiddos to their respective babysitters then not really be in labor.
Darn logistics.
At 3am I realized it was the "real thing" and woke Hot Hubby up to start loading the car and waking the kiddos. Oh, and I did my hair.
Naturally.
The contractions were horrible.
After hearing horror stories of 4th babies coming on the front lawn and because my contractions were so flippin' painful AND right on top of each other, I was convinced the baby was going to come on the way to the hospital.
Which if everything turns out great, is an awesome story to tell, BUT if it doesn't then…
I don't even want to think about it!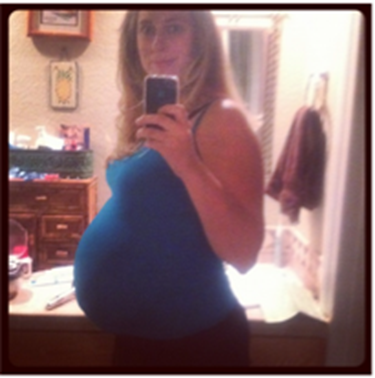 Finally we are on the road just after 4 in the morning and my husband stops at the first stoplight and I'm like, "I'm DYING. There is no one around. Just go!!"
We ran like 30 lights.
AND someone made a wrong turn on the way.
Seriously.
We get to the hospital and go into the wrong entrance… oops.
After a bit of trekking, complaining (on my part)  and wheelchair swiping (on hot hubby's part). We made it to the right floor (yes, floor) and checked in. It's about 5am.
I just "know" I'm at 9 or 10 centimeters and if I don't get to the room quick there will be a baby on the gross hospital floor.
They check me (ahem), and I'm 4 centimeters.
"You have got to be freaking kidding me!!!!?!?!?!?!?!???!?!?!"
I cried.
Then they took me to my room and checked me again.
6 centimeters in like 20 minutes.
I was a little more encouraged.
Then I closed my eyes and visualized blooming flowers and all the ridiculous things the tree huggers tell you to think about while my Hot Hubby whispered in my ear that "we will be holding our new baby soon."
I looked like h-e double hockey sticks.
I didn't do my make-up… big mistake considering all the pictures taken.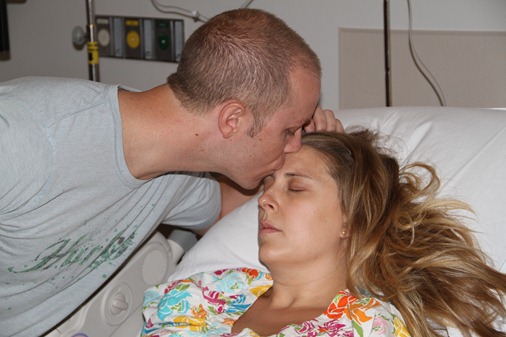 I was super quiet and kept thinking I was talking to my family (I have a lot of peeps in the room with me) but I wasn't.
Odd.
Looking back at pictures I got to see what my death vigil would look like…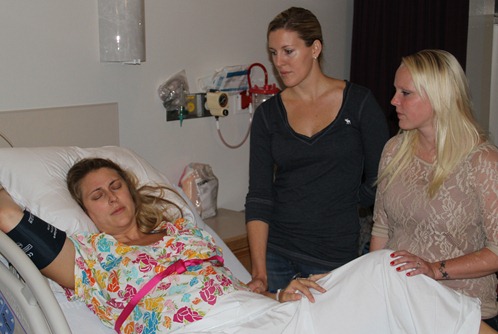 (sis and cousin)
Then after only 2 hours in the hospital and 20 seconds of pushing I was indeed holding my sweet new baby.
Pretty surreal.
A girl – Tessa Pearl 8 lbs 15.3 oz.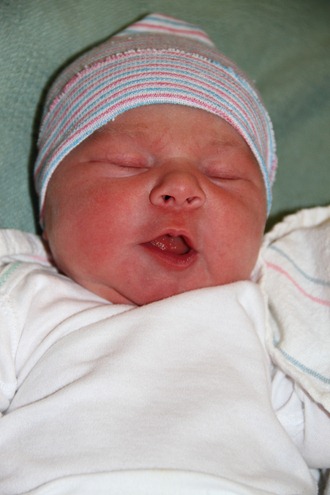 (I just say 9 lbs, that's OK right? The Dr said if she wouldn't have pooed right after she came out she would have been at least 9…)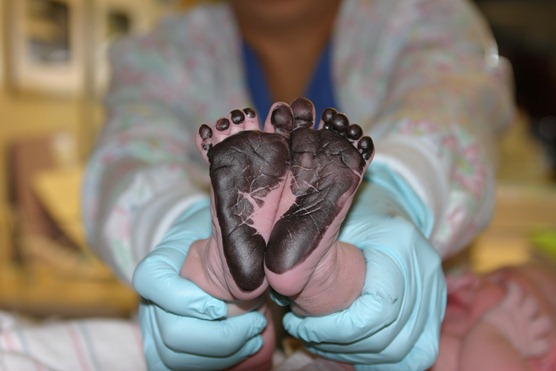 ###
Tell me you have posted a birth story on your blog too!!
Leave the link to your birth post in the comments because I wanna read it.
REALLY!
I'm nursing all the time and I can't type while I do it (yet) but I can read.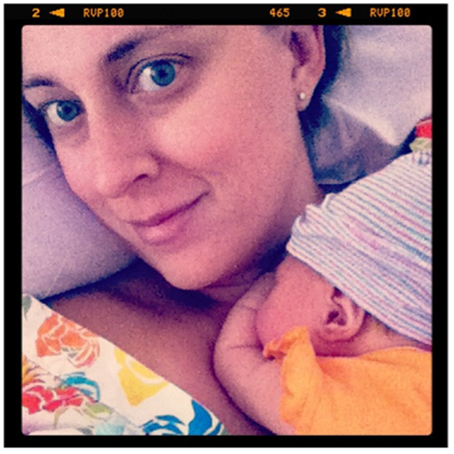 PS
I'm wearing a BYOG from my beautiful-talented-in-real-life-friend Andrea. Check out the site.