I spoke at my mom's memorial service. A lot of people said I was brave. But I didn't feel brave, I felt sad. Overwhelmingly sad. And I felt proud. Proud that I had my mom as my mom.
Here is what I said:
   Thank you for coming. My name is Kara Noel and I'm Suzie's only child.
   She got it right the first time.`
   As I look around this room, I can't help but think of how much my mom would have loved to be here with all the people she loved most. It feels like she should be walking though the doors right now… LATE… of course!
   I wanted to share some simple stories and memories about my mom. A woman FULL of joy, life and happiness.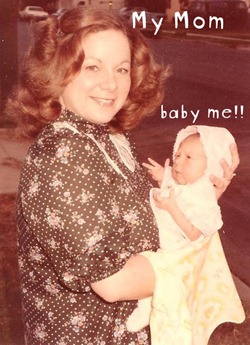 The week before my mom fell, she was over at my house. We made beautiful pillows together for my couch. We talked about life and love, and laughed together all day. It was probably some of the sweetest time we've ever had together. She told me in her proudest mom voice that I had done "so much" with my life by 32. Maybe she was referring to the amount of children I had in such a short amount of time!
   Her statement resonated with me, and later that night I was thinking about all the things she had done in her life:
She put up with 3 younger siblings… and if you know them, that's quite a feat!.
She was a leader among her peers.
She was faithful to her High School sweetheart.
She traveled the world… even climbed the pyramids in Egypt.
She was my Room Mom from Kindergarten thru 6th grade.
She was a vigilante for my High School.
She took in strays… cats and people!
She was instantly loved by anyone who met her.
SHE LIVED BIG.
But that's not what made her awesome.
   She loved the Mother Teresa quote, "Do small things with great love." Even though she lived BIG, I feel like my mom was the master of small things.
   A master of the details.
   She made my childhood magical with Small Things:
My tooth fairy, named Melanie, wrote me letters and would leave a trail of fairy dust from my hair to the window sill.
After school on rainy days she would invite all the neighborhood kids over for popcorn and hot chocolate.
She made every class party special for every child.
She made homemade lunch for about 30 teens at my house every Tuesday my senior year of High School.
   She made my adult life magical with Small Things:
She secretly decorated the front door of our tiny apartment the first year I was a married woman with homemade wreaths… that I still use and cherish today.
Every Christmas she would fill my stocking with hot glue sticks and my favorite Earl Grey tea. Something I have never had to buy in my 8 years of marriage… till last week.
She would fill Brad's stocking with the "good Q-tips" that we were too poor to buy as a young married couple… because she paid attention to the details and knew he didn't like the generic ones
   AND I was BLESSED to see her do Small Things with my children (I just wish I would get to see more):
Baking brownies with a whole container of sprinkles on top.
Building legos and sticking stickers for hours.
Glitter! Because we all know parents don't to glitter because it's so messy.
   Now I get to pass along all those special small things. Wouldn't you know it, Eli's has the same tooth fairy and she leaves sweet letters.
   BUT the biggest Small Thing my mom did was listen.
   She would truly listen.
   Growing up we had a neighbor, who has since passed away, named Millie. And Millie would come over a couple of times a week and shoot the breeze with my mom for at least an hour. It would throw my mom's day totally off and she would be stuck doing her chores late or not getting things done at all. I remember telling her, in all my infinite-teenage-knowledge, to just tell Millie that she had things to do or to just work while she chatted. My mom told me that she had made a promise in her head to God, to just drop everything and give Millie her full attention every time she came over. My mom felt this way about all visitors and would drop everything and give anyone who came over, her full attention. Not wanting to miss any divine appointments.
   She actually cared and had true compassion.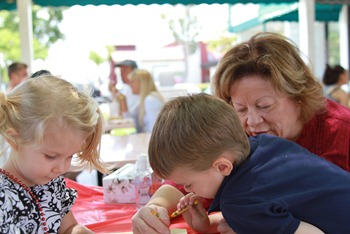 When she was with my children she wasn't pushy and wouldn't try to force a special moment. The most precious moments would just happen as she listened. She would do whatever they wanted to do, all the while listening to whatever was going through their sweet little heads.
I want her to hear the way Tess says her first new words.
I want her to chuckle over Cy's latest mischief.
I want her to bake dozens of brownies with Cora Jane.
I want her to marvel over Eli's latest lego creations.
I want her to tell me in all seriousness that each one of my children is a "true genius."
   When I first started I said I wished my mom was here… and I still do!
   But in a way she is here because she left a great legacy.
My Aunt found one of my mom's notebooks yesterday (what a precious gift). My mom had written this quote,
"The happiest people don't have the best of everything.
They just make the best of everything.
Live Simply.
Speak Kindly.
Care Deeply.
Love Generously.'"
   Please remember my mom when you do Small Things.
   Because Small Things matter.
   In fact, Small Things aren't small at all.
   Just look around at this big room of hundreds of people, here to celebrate the life of a my mom, Suzie – the master of Small Things.
###
So, that's what I said at my mom's memorial. (deep breath)
Before I spoke I was praying about something Jesus-y to say. Nothing came to me until about a week later. I suppose it wasn't meant to be spoken there. But I'll share it here, in another post soon.
I'm also doing a post about what to say (and not to say) to someone who has just suffered through a loss.
Here is a little tribute post I did for my mom 5 years ago. It's sweet, so I thought I would include it here as well.