Remember how we bought a house?
(Squeeeeeeeee!)
And that it needed A LOT of work.
We've been working.
Every night till the wee hours of the morning. So I'll share a bit of progress… (but more details will be coming when I have more to share!)
The stairs were yucky. Now they are beautiful.
See that horrible colored banister?
It's been stained into lovely.
By me.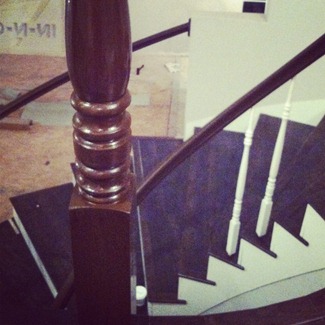 We are doing the tile diagonal.
Cuz we're crazy like dat.
And I spill paint.
Cuz I'm crazy like dat. (Not really – I'm listening to a book on tape and in another world)
We've been eating a lot of fast food and my weight loss as halted. Does it bother anyone else that one place has a sourdough sandwich, jalapeno poppers, fries and teriyaki bowls? I was sick later. Luckily I haven't gained but I'm really looking forward to being in my future house eating my bad cooking again.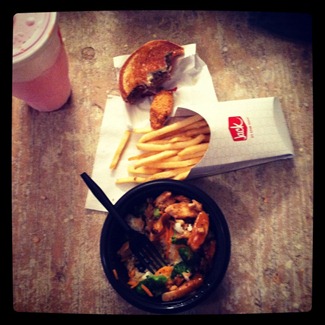 We were lucky enough to borrow a paint gun from our friends and I'm in the process of repainting all the cabinets. It's a LONG process. There have been tears and pleas with my husband to just use the credit cart and hire it out. But I should be done next week. YAY!!
This is the face of a girl who thought she would get the cabinets done in a weekend. Then the reality hit and I'm going on week three. THREE!!!
I know I'm complaining, but we really are mostly smiles. Especially when I look at my camera roll and see the pictures my littles are taking on my phone while I'm distracted with drawers. The pictures give me perspective. This is a wild/busy/stressful time for my hubby and I but we are creating a home for our children.
Our home.
And they are making memories of their own.
In a few years (which will be here in the blink of an eye) I may hear them talking about how Mom (Because I'll be Mom not Mommy by then. Boo.) sprayed herself in the face with the paint gun (yes, that happened) and how Dad carried a toilet down the stairs and… who knows what treasures they are adding to their precious lil' memory banks.
While my nights are spent at the "new house" my days are still filled with kiddos AND Eli's Lids. Part of the awesomeness of being the mom in a mom & pop shop means I can work on my biz at home while my eats-extremely-slow daughter finishes her lunch… in her bikini.
I've been bagging up our three new colors and we'll be coming out with them next-ish week.
A few things will be changing around here. But not too much, so don't worry. And of course in a couple of months we'll be launching something new.
But I can't tell.
I'm mean like that.
Happy Friday Friends!!
So thankful for you.
REALLY!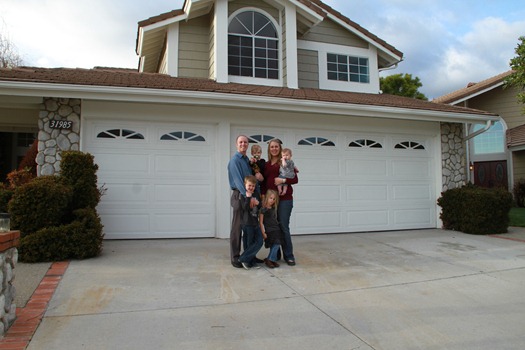 Does this house make my wallet look small?
Because my wallet sure feels a lot smaller!!
We bought our first house. It is fantastic – perfect in every way.
OK, it is kinda a dump.
It was a drug house and (according to the cute 4th grade girl next door) the SWAT team even raided the place.
I've be donning knee pads and old jeans every evening to demo every remnant of gross house into the dumpster. Who knew knee pads could be so hot! The carpet had to be taken out because 4 families were living in the house and all that foot traffic made black foot paths where there wasn't furniture.
It was gross. gross. Gross. Gross.
We go to the hardware store. A lot. The kids and I get bored. A lot.
I found the reflection knob pic on my phone after one trip. I know I'm his mom, but I was pretty impressed. I'm thinking Eli is a budding photographer!
Picking paint colors is so stressful. I may have even switched the main color after a few walls had been painted. Eeeep.
Many many, before and after pictures coming soon. As soon as we get some cute afters going on!
We won't be moving till mid-June so we have plenty of time to work on things. Thankfully that's a long way off because of all the work that has to be done. And it's not soon enough as space is tight around here.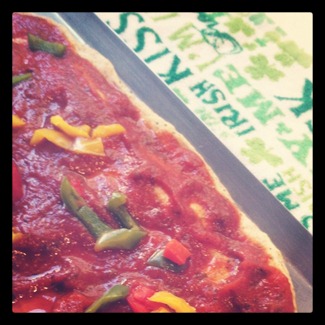 Since we are house poor saving money, I have learn how to cook. I actually like it, as long as I plan ahead. I'll share some of my favorite dishes. I'm nothing close to a chef and my recipes aren't crazy amazing. But I promise they are yummy, very very VERY EASY and cheap. This one is from my mom!
Pizza Dough from Scratch (this one is made for the food processor)
In a measuring cup:
Add 1 tablespoon of sugar & 1 tablespoon of yeast to 1 cup of hot water. Place in a non ventilated place for 15 minutes. (We use the microwave)
If it foams up then you know the yeast is good to go.
While you are waiting for the yeast to foam…
Add, 2 2/3 cup of flour, 1/2 teaspoon of salt, 1 heaping tablespoon of basil, 1 heaping tablespoon of oregano in to the food processor and mix a bit.
Pull your yeast mixture out of the micro and add 1 tablespoon of oil.
Slowly pour the wet mixture into the mixing food processor.
It will roll into a ball.
Take the dough ball out and cover lightly with oil.
Place it in a container with a lid (or use saran wrap to cover the top)
Put the container into a non ventilated place (We use the micro… again)
After about an hour the dough is ready.
Rub the remaining oil from the container onto the bigger dough ball.
Mash the ball out flat on a pan to your desired thickness.
Put in the oven for about 7 minutes at 400 degrees. Keep an eye out the first time if you like soft dough (like we do), it can overcook quickly.
For the pizza…
Add pizza sauce (we always use Prego Spaghetti sauce because I can get it in bulk at Sam's Club for a multitude of dishes), cheese and all the fixings then put in the oven till the cheese is yummy melty goodness and you are DONE!
Even though there are a lot of steps above it's actually REALLY easy. I just broke it down so much because that's the way I like it!