I love linking up with Life Rearranged's InstaFriday. I just love love love to document my phone pictures. (Don't you love your phone pix too? We have our phones on us all the time and catch the cutest moments!)
An event reminder came up on my calendar. Baby due… but no baby.I thought I was in for another really late bundle of joy!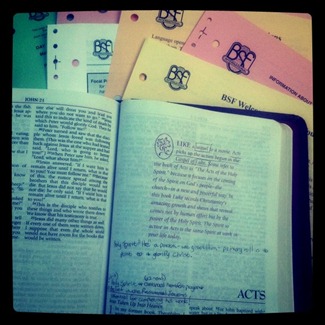 Started BSF again!
You should too.
Powerful!!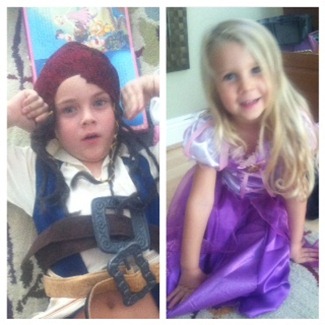 I bought Halloween costumes for the big kiddos. (Rapunzel & a pirate…year 4 as a pirate!)
Stoked not to make them.
Now I just have to decide on something fun for the wee ones.
Ideas???
I was thinking Bonnie and Clyde!
I did end up going into labor on the evening of my due date (when does that happen?).
A girl.
With BIG squishy cheeks.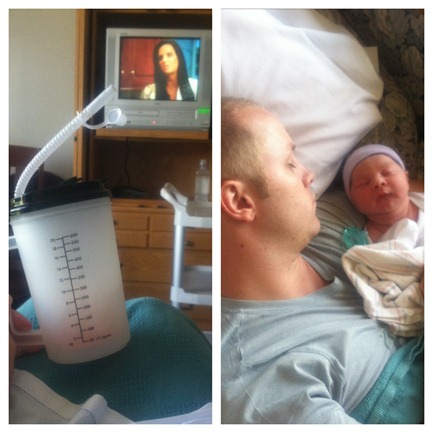 Some new parents love staying at the hospital after baby.
We aren't those parents.
At 5'10" I'm too big for hospital beds and I like my own shower and couch and PJs and the chaos of being surrounded by my own kiddos. So we stay about 24 hours and get the heck out of Dodge.
Though this time it was hard to tear away from all that delicious trashy TV. Can we say Millionaire Matchmaker marathon!??!
Almost made me want to get cable again.
Almost.
But the only time I would be able to watch, would be if I was trapped in a hospital.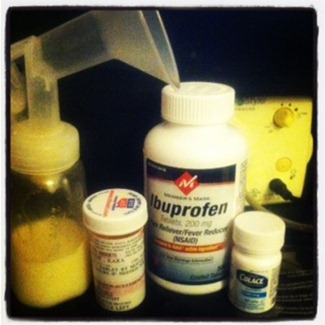 A new mom's power pack. (Just missing the pedi spray bottle, those hot hospital issued panties and tucks. Thx IG and twitter friends!!)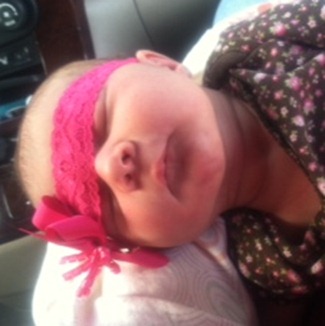 Singlehandedly bring back the 80s sweatband!
(Lets get physical… physical. let me hear your body talk…)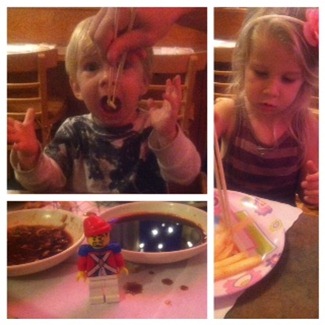 One of my favorite things about a new baby is the valid excuse not to cook.
I'm not blessed in the kitchen.
Sushi!
Cy loves it and Cora Jane is a champ with the chopsticks.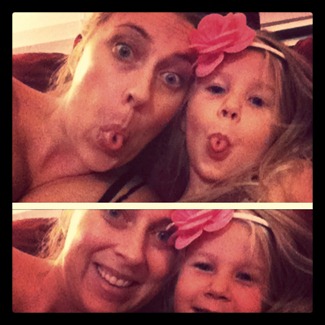 "Mom, lets take pictures of ourselves."
"OK"
Have a great weekend.
I'll be snogging our new lil' human!!
(And nursing a lot.)
Halloween we hosted good friends for Tortilla soup and trick-or-treating.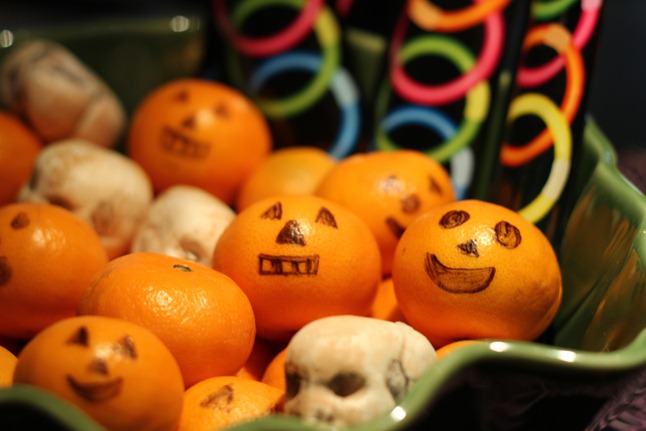 As you can see I'm making good use out of my kick a&$ leaf bowl. It served as the centerpiece with lil' clementine jack-o-lanterns, skulls and glow bracelets.
It was Eli's 3rd year as a pirate, Cora Jane was princess Ariel and Cy was Sebastian the Lobster. Hot Hubby and I were western folk. As you can see I strayed from my matching obsession. I intended for him to be Prince Eric and for me to be Ursula but the kiddos (and hubby) didn't want me to be the bad guy. So I had to scramble a bit, but it worked out…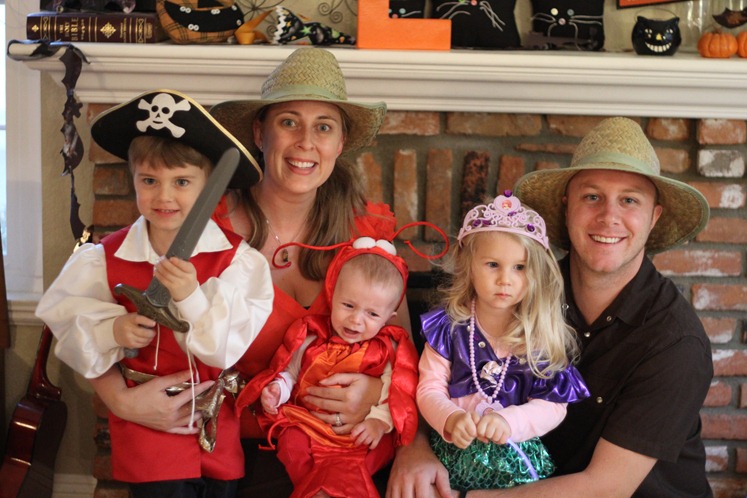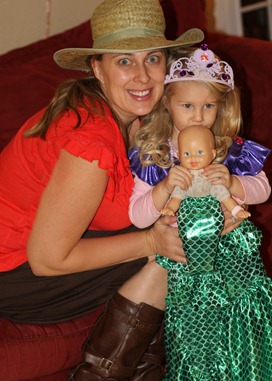 Highlights…
~Making a matching mermaid costume for Cora Jane's favorite doll. Something my mom did for me every year growing up. Of course I did it last minute (3pm) on Halloween day… just like my mom!
~My dad going the wrong way with another group of trick-or-treaters. He didn't notice he had been chatting up another party for over 100 yards till we flagged him down.
~Cora Jane being escorted by all her grandparents to each house at a snail's pace. She has them wrapped around her sweet little fingers!
~Eli wanting to go home after about 30 minutes because his feet hurt.
~Making all the kiddos gather into a group shot… 
(batman, pirate, unicorn, lobster, dragon, Ariel, flower)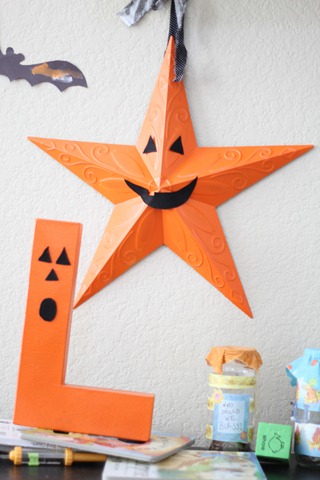 A little black felt and orange spray paint can turn anything into a jack-o-lantern!
(I decorate these suckers for every holiday)
Make spooky bats with your kiddos with my latest video at OC Family.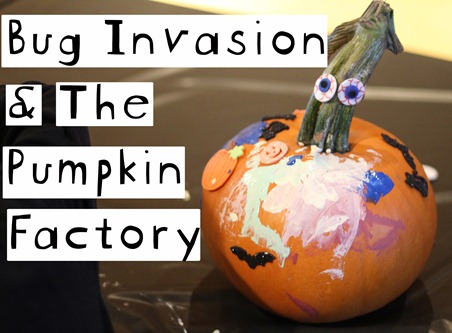 One of the kazillion reasons we love living in Orange County is all the fun places to go! Last week we got the chance to check out The Discovery Science Center's (aka The Cube) Bug Invasion and The Pumpkin Factory. They have paired up to offer an awesome Trick or Treat Candy Quest.
I was a little flustered after arrival because someone was having an emotional day, someone was starving for a bottle and someone wanted to run around the Cube to check out all the awesome exhibits.
(I'll let you guess which someone is which)
I was basically feeling like the worst mom in the world because Cora Jane had an accident (thankfully #1) and I didn't have a change of clothes, Cy was screaming unless I stood up in one place swaying and Eli had probably been kidnapped because he had been roaming The Cube alone for at least half an hour. Then Dr Sue said I made mothering my 3 small kiddos look so easy. I wanted to kiss her! Anyway, she's my new BFF!
Eli said the Bug Invasion Exhibit was "GREAT!" It actually sounds more like "GWATE!" It's super cute!
See the "gwate" video all about it…
Hot Hubby met us at The Cube after he got off work and we took the short walk (like 3 minutes) over to The Pumpkin Factory.
The Pumpkin Factory has all sorts of rides, a petting zoo, and of course, loads of pumpkins!! GOOD PRICES TOO! Those big giant jumbo pumpkins for only $20. It's a better deal than a grocery store and you are supporting a local business!!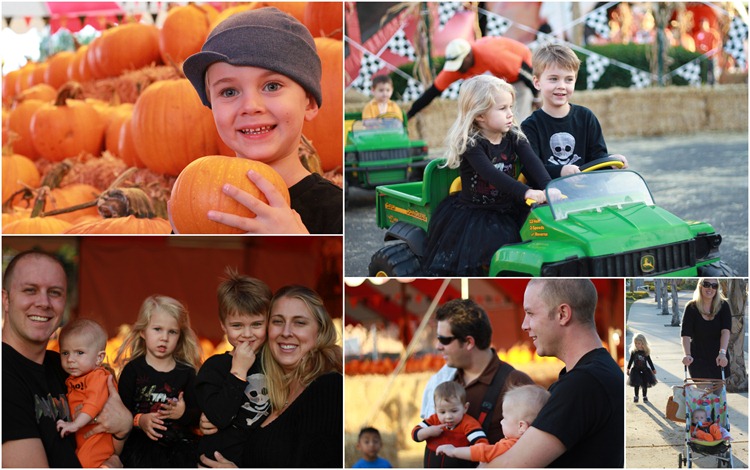 As the sun started setting it was the perfect weather for a Lid… even the pumpkins were chilly!
Because the folks at The Cube and the the folks at The Pumpkin Factory are so awesome they are letting me give away…
4 general admission tickets to the Discovery Science Center AND 4 unlimited ride wristbands at The Pumpkin Factory! (You know you want to win this because you are already taking your kiddos to a pumpkin patch anyway and then you won't have to shell out any extra moo-la for rides!)
Mandatory entry: Leave a comment with your best Pumpkin Carving Idea.
Extra entries: Leave one comment for each extra entry. One extra entry per item below…
Follow the Discovery Science Center on Twitter
Head on over to the Discovery Science Center's site, find something fun and leave the page link in the comments
Follow Eli's Lids on twitter
Tweet about the giveaway with a link to this post  to @ElisLids & @discoverycube
Facebook this giveaway
If you have a post about going to a pumpkin patch leave the page link in the comments
If you have a post about going to the Discovery Science Center leave the page link in the comments
**Giveaway ends on Tuesday October 19th at 10pm!!**
Thank your Discovery Science Center for letting us hang at The Cube!
Thank you Pumpkin Factory for the perfect pumpkins!
(And the giveaway too, of course!!)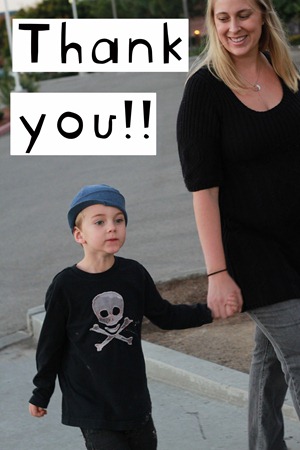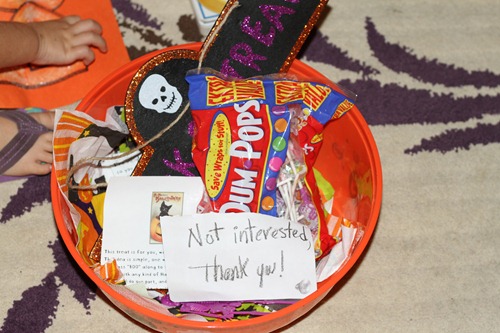 Dear neighbor who returned our BOO,
I drove past your house after we went BOOing in the neighborhood and noticed the Halloween bowl on your front bushes. Even though we don't know you, we thought you would be into the whole BOO thing because your house is one of the most Halloween decorated houses in the neighborhood. You know you could have just kept the goodies and not BOOed anyone else or better yet just used all my BOO stuff and put it on someone else's doorstep. Even though you have made it clear to the world just how LAME you are I wanted to say thank you for returning our BOO. Now we get to go BOOing again!!
Smooches,
Your holiday loving neighbors!