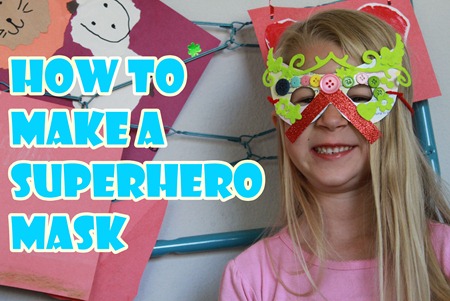 Having 4 kids means I'm at the doctor's office 4 times as much as someone with one child.
Having a child like Cyrus, means I'm at the doctor's office 10 times as often… that kid!!
Anyway, at our last sickie appointment (Cy, two weeks ago) the doctor told me to get the whole family on probiotics. I had two thoughts: 1. Why am I just hearing about this now? 2. When, where and how much?
A couple of days later I was asked to to a little posty-post about Lifeway's Frozen Kefir Pops. A lil' ice-creamy-ish product with 12 probiotics (seven to ten billion CFU's of 10 strains of bacteria plus ProBoost).
Um… OK! Just what the doctor ordered!
The "bug pops," as my children call them, are tasty and healthy. If you are looking to get some probiotic action in your kids during Summer pool time, then pick some up at Whole Foods Market ($5.99 for a box of 6). They are in the freezer section… I'm telling you because no one knew where they were. I kept getting directed to the regular ProBugs in the yogurt section. (Which also looks tasty and it's in those squeezy packs that are soooo easy for babies to suck down… you know what I'm talking about, right?)
After you finish your frozen ProBugs use the box (or any lightweight cardboard box… or 2 layers of felt) to make superhero masks with this great Superhero Mask Template I made for ya.
You'll need:
Frozen ProBugs box
Dark marker
Glue (I only use hot glue… dangerous, yes. But also strong and fast drying.)
Random kid crafty stuff. I had buttons, pipe cleaners and sparkle tape. Markers, rhinestones and stickers would be great too.
Hole punch
Yarn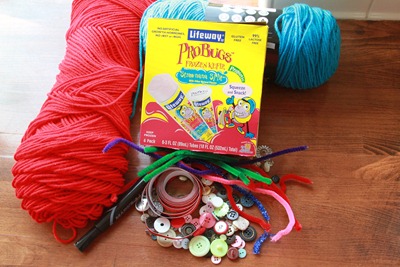 I ended up making a template because it's a lot harder than it looks to eyeball a mask shape.
True story.
I made 3 different mask styles – traditional, cat-eye and crown.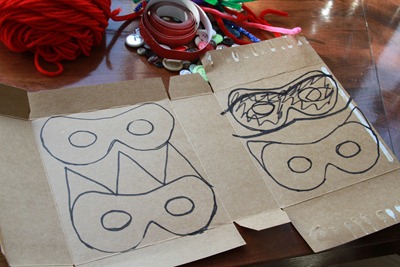 Cut out, then punch a hole on each end of the mask level with the eye holes.
Decorate, then tie the yarn to create the band. (If you are using felt then you can sew on elastic.)
Easy and fun.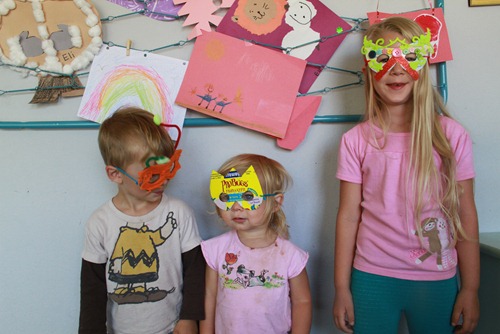 Find Lifeway Kefir on Twitter, Facebook and Pinterest.
All of Lifeway's products are gluten free and 99% lactose free.
Random side note: The Lifeway brand has a sweet lil' backstory, a real American Dream!
Disclosure, yo: This post is part of a social shopper marketing insight campaign with Pollinate Media Group™ and Lifeway Kefir but all my opinions are my own. And I made up the craft and template myself and used my own supplies. What else can I disclose?… um… I never do posts about something I don't like… ever. Oh and I cuss at my kids. Hope that covers all my bases. Blarg.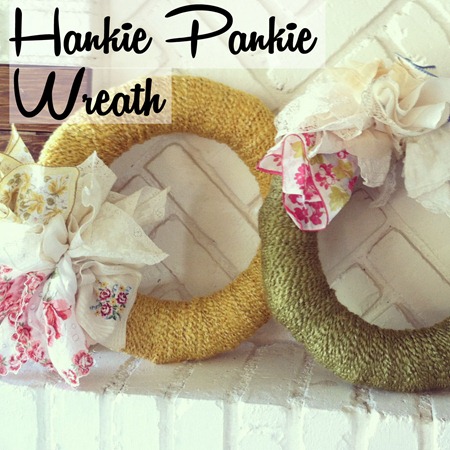 One of my good friends came over with yarn and wreath forms and I supplied the vintage hankies.
Beauty was born.
In my humble opinion.
You'll need:
Wreath forms
Yarn (one bundle)
About 2 feet of lace (it's hidden, so you can use leftover yarn or string)
Hankies (or fabric scraps)
Optional – Hot glue (or tape or tacky glue)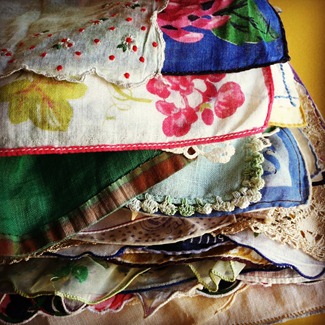 1. Wrap the heck out of the wreath with the yarn. But on a good show or have friends over to chat, because this takes forever and is pretty boring.
You can secure the ends with hot glue or just wrap the end in the next layers or tape the end or tacky glue or tie in a knot. Just get that yarn on the wreath. If you have a straw wreath leave the plastic covering on so you don't have straw sticking out (though that could be cute too).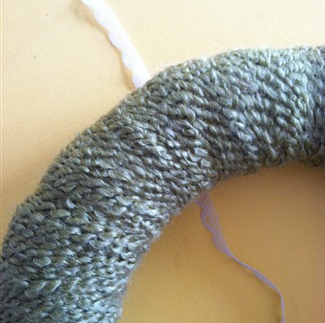 2. Lay the lace behind the wreath. Layer the hankies and wrap the lace over every 2-ish layers and around the wreath. Hankies should be floppy. Tie off and hide lace ends under hankies. Fluff the hankies as desired.
3. DONE!
I put mine up on St Patty's Day with white hankies then added some Spring colors for Easter… I may add some brights for Summer.
I just took down our Easter decorations, but I'm keeping up the Spring stuff. It isn't much different, but for some reason this has me perplexed. First world problem. Do you leave up Easter? Or have totally separate stuff for Spring? Or take it all down and go plain till the next holiday? Inquiring minds want to know.
Me!!
The left picture is Easter the right is Spring. I just took down the Happy Easter sign and Easter eggs, then hung the Hankie Pankie Wreath and switched sides with the burlap wreath.
My favorite is the hankie hoop behind the wreath!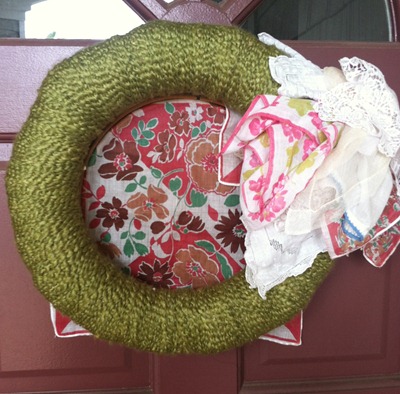 Sigh. Crafts are fun and theraputic.
Don't forget to enter the big $500 and $250 gift card giveaway!
My friend Drew B took a picture of one of her littles every day for a year and did this fun thing (now she is in the process of doing the same thing with her other little). I was in love with the idea but taking an Instagram picture of each kiddo everyday stressed me out… not to mention it would clog up my stream. I figured I could do one a week (of each kiddo). Totally doable and actually really fun. I thought I was keeping up really well, but when I went to put the pictures in this post, I only had 7 for each kiddo! I'm hoping to do the poster thing just like Drew.
52 Weeks of Eli…
52 Weeks of Cora Jane…
52 Weeks of Cyrus…
52 Weeks of Tessa…
One group picture which caught 4 birds with one shot: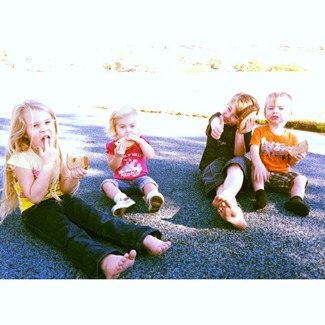 So how fun is this going to be at the end of the year!?!?
And since I'm obsessed with Instagram, go ahead and follow me here or search @karanoellawson.
Last month I had the opportunity to visit the Craft and Hobby Association's Winter Trade Show. It was like the Holy Land of crafts. Like, overwhelming. Somehow I was able to meet some pretty fun folks and discover some cool new products.
One was Craft Attitude's Printable Jewelry Film. You print whatever you want on the paper (from an ink jet printer) then glue stick it on any kind of jewelry for a custom piece. Talk about an easy craft! I think it would be a great activity for a girls night or a girl scout/tween birthday craft or a Mom/Grandma/Aunt gift…
I got to get a personal how-to lesson from Candie Cooper. See the Craft Attitude Jewelry Film in action below…
Now that you see how rad it is, wouldn't you like a pack of your own?
OK!
One lucky reader will win an 8 sheet pack of Craft Attitude Jewelry Film. Just leave a comment on this post with what you'll make with the film… and/or who you will make it for! Follow the entry instructions in the box below for extra entries…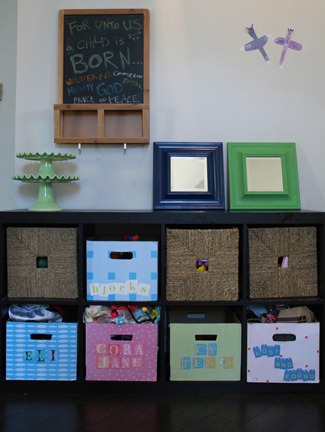 It's that time of year again! Time to purge and organize all the crap sweet gifts from family and friends!
We have an entry table that doubles as toy storage. It's part of the expedit series from IKEA and I love it because it deceptively holds a lot of stuff without being obnoxious. We had the plastic bins which were super pricey and fell apart after a month. (UG) Then we got the baskets (seen below) and while I think they are very pretty, they are $17 each!! Then I discovered standard .99 cent bankers boxes fit perfectly. AND they don't go up to the top so you are able to fill it up with more oddly shaped items. But they are boxes, so it looks like you still have some unpacking to do. Nothing a little paper can't fix…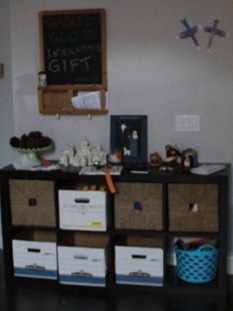 You'll need: Bankers box, 12×12 pretty paper, spray adhesive, razor blade, glue, craft letters (optional)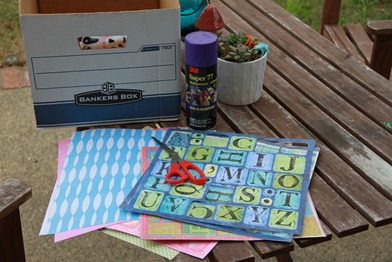 1. Spray the heck out of the front of the box with the spray adhesive and adhere the paper to the front. Standard 12×12 scrapbooking paper just fits the width of the box and overlaps a bit on one end of the length. Since I lined my paper to the bottom I had to cut a few inches off the top. OPTION: fold the excess paper over and glue.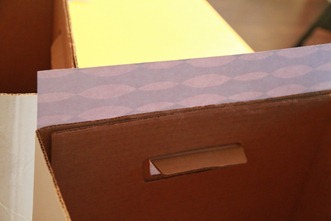 2. From the inside, cut lines (as seen below) on the paper inside the handle. You can use scissors but a sharp razor blade works best!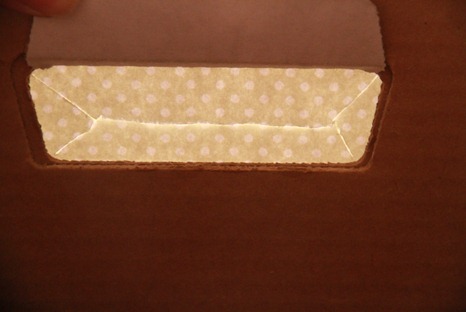 3. Fold and glue inside the box.
4. Finish by labeling each box with the child's name or with the contents of the box. I did a bin for each child, one for blocks, and one labeled "lost & found" for all the crap items left at our place after parties and playdates.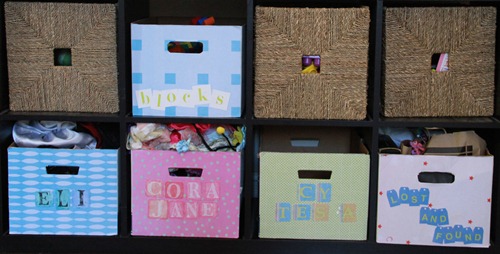 This is so versatile! Cover the front of any cheapie box and make it look rad. For more narrow shelving turn the box sideways. You can even use fabric! I think all the boxes covered in the same fabric would be great! Or even using coordinating scrapbook paper and no letters for a neat art piece effect. I plan on doing something like that since this table is basically in our living room and eventually moving these boxes to the play room.
As you can see, my children are doing a great job of keeping organized with their "new" bins…