We fell in love with sunset hikes last summer with Inside the Outdoors. LOVE! (Pic below taken 7/23/11 with Tess in my belly. Check out the Inside the Outdoors schedule here! I highly recommend everything they do.)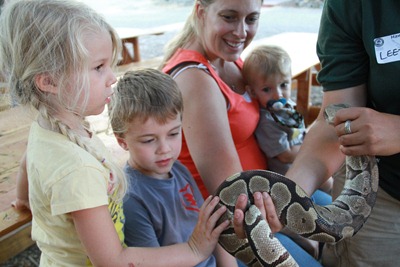 It's so much fun to explore local places that go unnoticed- like a secret adventure made just for your lil' family. It's magical. Now that we live so close to the canyon I put Tess in a wrap and we can practically walk out our backdoor and into the lovely Saddleback mountains.
Hiking makes me want to live in the wilderness with my own vegetable garden. And have chickens. And make bread. Churn butter. Hell… how about a barn raisin'??
I'm being serious.
As we hike, I pretend we are walking through our land (I'm weird like that).
We also like to invite friends into our lil' world. If you come over for dinner we'll take you too! No matter how many peeps in our group. One night this summer we had 13 kiddos. (Just 3 families and all the kiddos are 8 and under.)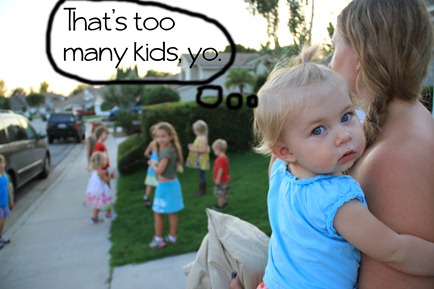 (I love the pic on the right because the oldest kiddos from each family are studying the Trail Regulations together. Oh, the responsibilities of being a 1st Born.)
On one hike, with just our family, we took a rest to look at the view. Eli made a profound observation, "I can't believe there are so many people down there, and we are the only ones enjoying this beautiful nature." It started a conversation about the values in our family. That sometimes it may seem like we are on the outside looking in on the world. But our "outside" is so filled with beauty and splendor. SO FILLED. Beyond filled with things people on the "inside" can't even fathom.
Unless we invite them.
I shall be telling this with a sigh
Somewhere ages and ages hence:
Two roads diverged in a wood, and I,
I took the one less traveled by,
And that has made all the difference.
Robert Frost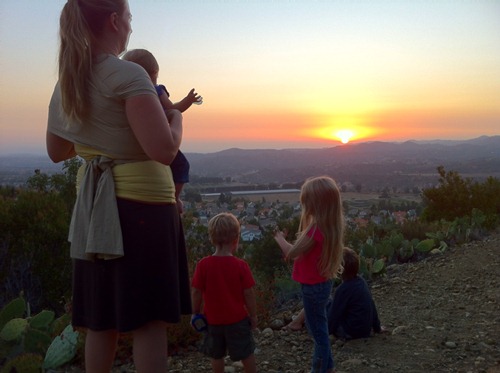 3 Responses to "Summer Sunset Hikes"