Today I'm flying home from Colorado.
It's my 30th birthday.
I don't mind.
I'm flying with my family whom I love.
To a home I love.
I ended last year's birthday post with my lil' family taking me out to lunch.
Now find out what happened the rest of that day…
We were sitting at Red Robin because the birthday girl (ME!!) was craving a Bonsai Burger (yummy!). It was right after some law passed saying Nutrition Facts had to be displayed at restaurants.
Um… yeah.
I didn't enjoy my Bonsai burger & steak fries very much knowing I was eating over 3000 calories! I mean I could have guessed it was about that much but actually seeing it in print ruined it for me.
Just before we finished our meal I noticed Cora Jane had a contemplative face… like REALLY intent on something.
Um… yeah.
She was concentrating on a HUGE poop blowout! As in poop pouring out the back of her diaper, onto the high chair and pooling (yes pooling) onto the floor!
We have never seen anything like it. Or since then!
I did a quick clean up, made a beeline to the car for damage control while Hot Hubby mopped the rest with strict instructions for the manager to boil the high chair.
We still had errands to do but Cora Jane's clothes were… um… yeah, DONE!!
We took our naked baby into Walmart to get anything that might cover her up for the rest of my birthday outings.
We ended up finding the cutest dress ever!!
For $5.00!! You gotta love that place, even if you hate it!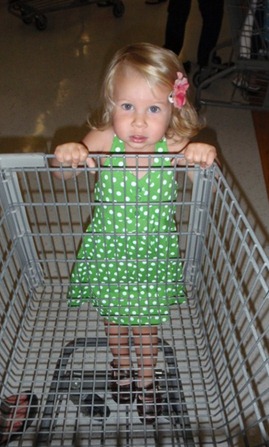 Happy Birthday to me!!
I'll let you know how the flight was

I got this adorable dress at Walmart, wanna share something you blogged about this week? Add to our "I got it at…" carnival in the comments below:
12 Responses to "On this day last year…"