I've got your back.
We are slowly getting into the daily back to school routine and it hasn't been easy. We are so happy with Eli's teacher and I've been walking to school with all the littles so I'm logging 2.5 miles a day of exercise! (More on my new-need-to-share-exercise-routine soon!) All 4 kiddos pile into the stroller and I look like a fertility goddess. It's quite comical. Anyway,to honor the first few successful weeks of school, I 'm thinking I should do a giveaway from RoseArt andThe Board Dudes.
RoseArt is truly a company that thinks outside the page when it comes to all things art for lil kids and The Board Dudes are just plain coolio! It's a HUGE prize pack that will put some fun into your back to school supply list! Here's what's included for the winner… From RoseArt: Color Blanks – in motion, 32 count white and colored chalk, 24 crayons, 5 paint brushes, 12 SuperTip classic washable markers, 10 tubs of fun dough. From The Board Dudes/The Write Dudes: 12 Infinity permanent markers in neon, scribble stuff – 8 owl pencils erasers and sharpener, 8 metallic ink gel pens, junk food puzzle erasers, 10 No 2 pencils, 8 2 in 1 dry erase markers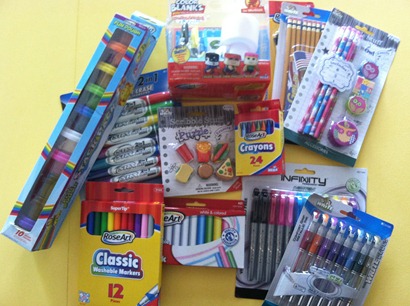 All you have to to do win is head on over to my post over at OC Family and leave a comment with a back to school tip for me. (one entry per person)
Here are two tips from me:
#1 On bath nights I dress my kiddos in their outfit for the next day and they are already ready in the morning. (Don't judge! I have 4 kiddos 6 and under and work from home. This is a tip I never admit to anyone but you will thank me later!)
#2 Buy a few packages of the Scribble Stuff puzzle erasers (pictured below and only $1.99 for a pack of 6) and wrap each up individually as gifts for the class. Kids go ape over the lil' things and it's a practical cost effective class gift.