Sometimes after folks buy Lids they send me pictures of their adorable kiddos in wearing them (or post them up on our Facebook page).
I love it.
Like really LOVE it.
Because I really think people who buy Lids are my friends.
Is that weird??
Anyway, each Sunday I'm going to feature one of the Kids in Lids pictures sent to me!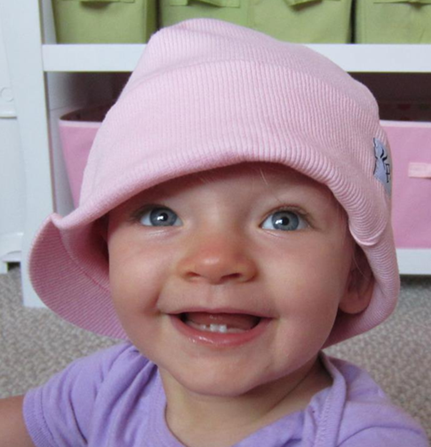 Meet Eva, 14 months old, and wearing the Pink Snowboarder Lid she scored from BabySteals! How much do you love that gummy smile!?!?! 
###
I may even do some sort of thing where I give the featured kiddos a killer discount or something else fun. I'll decide that after I'm a bit more settled with baby!
###
Baby Update:
Last night I was having crazy contractions from 4am till about 6am but they tapered off. Today I feel great. Maybe I'll have the baby on Talk Like a Pirate Day tomorrow. But I kinda want the 20th. All my kiddos have even numbered bdays so I wanna keep up the pattern. Isn't that silly?!?!?!
7 Responses to "Kids in Lids"