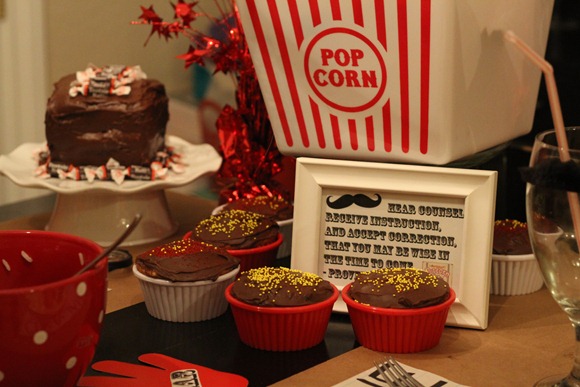 I was inspired by most favorite blog, Nie Nie Dialogues, to do a Back to School Feast. Or in our case a starting school feast.
The theme for our first year is from Proverbs 19:20
"Hear counsel, receive instruction, and accept correction, that you may be wise in the time to come."
The décor was vintage carnival (inspired by a Dollar Tree gun Eli saw at Kyla's house earlier that day!)
Table settings:
~Brown postal paper runners
~Classic lined school paper with our names for place cards
~Silly carnival faces for each guest, and the gun that inspired it all for Eli
~Mustaches on each of the glasses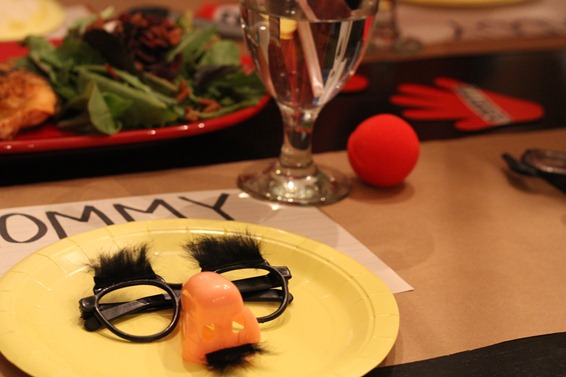 I also made a simple banner with twine and playskool flash cards for the hutch. (I know it doesn't go with carnival theme but it is a back to school thing…) It looks so sweet and the kiddos had a fun time "reading" the cards!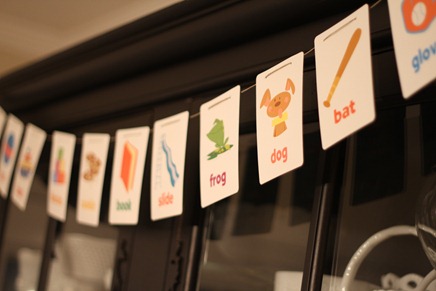 Menu:
~Lemon pepper salmon
~White rice
~Mixed greens with rosemary pecans & cranberries. (Topping is a Trader Joes mix. Super yummy!)
During dinner Hot Hubby talked about why he picked Proverbs 19:20 as our verse for the school year. We talked about how Eli's teachers will be giving him advice (counsel), instruction and correcting him when he makes mistakes. Sometimes it's a lot of work at school, but all the things he works on now will make him wise when he's older.
I made a simple graphic with the themed verse and framed it. I hope to start hanging them in my kitchen someday. I also put the "key" words of HEAR, RECEIVE & ACCEPT on lil' handprint cardstocks (you can see them down the middle of the table in some of the pix) to hang in Eli's room to remind him of the verse.
Then my husband blessed Eli for his first day and for the rest of the year.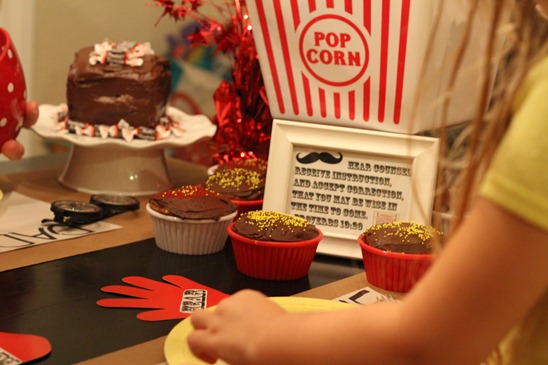 Dessert:
~Cupcakes and a mini cake, both yellow cake with chocolate frosting.
(I did a dozen cupcakes and filled a loaf pan with the extra batter. Instead of just frosting the loaf I cut it in half, stacked, frosted, plopped it on a cute cake plate, then added tootsie rolls for decoration. EASY, and one more pretty for the table!)
The End!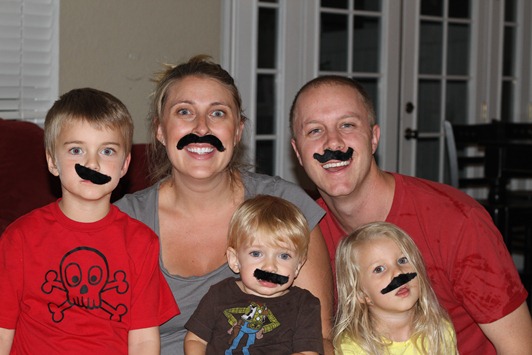 Hope you get some ideas for a Back to School Feast of your own! Things don't have to be crazy. I literally went to The Dollar Tree that afternoon and spent $20 on silly goodies for the décor. You gotta do dinner anyway so just add a little bit of fancy.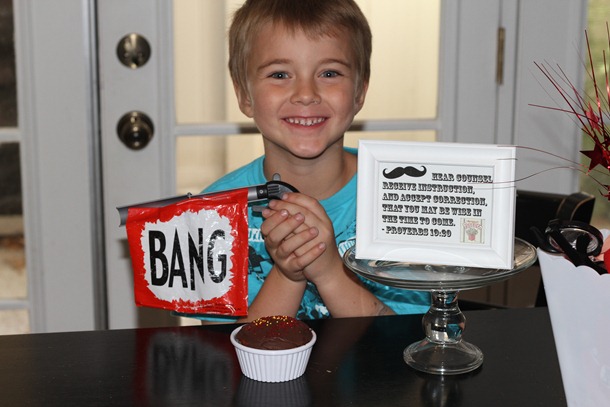 Eli today with a leftover cupcake as an after school snack!
We brought his first school year in with a BANG!!!
23 Responses to "Back to School Feast 2011"