Archive for October, 2012
Eli wanted an Angry Bird birthday this year and it really turned out to be a fun theme to put together!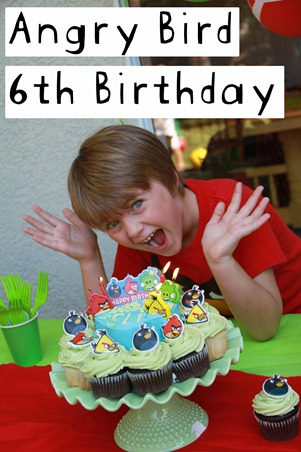 I made some orange ruffle wreaths for the front doors and added angry bird flare. (wreath tutorial coming soon) The wreath on the left was filled with angry birds and the one on the right piggys, of course. I cut the images from the party supply packaging and used regular tape to attach to the wreaths. Easy and FREE! (Random wreath thought: Orange is super versatile for a wreath! I pin on bright color felt flowers for summer, primary colors for back to school, yellow/brown for fall and black for Halloween.)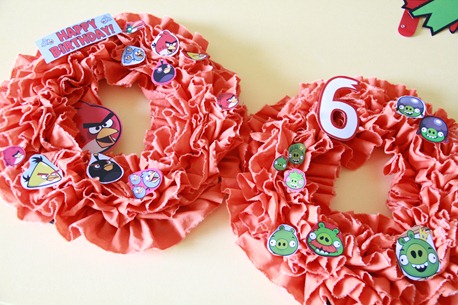 As kiddos arrived they could play our Angry Bird backyard game. I found rubber balls at CVS on clearance for $.49 and used my mad art skillz to draw the characters. We borrowed some big blocks from my mom's house and had a game. The balls doubled as party favors! (tip: I used a blanket for the balls for easy clean-up and we put a board on top of a wagon to build the piggy buildings) The game was a hit and the kiddos played throughout the party
Since we started doing small kid centered parties I was able to have fun with the tables settings. I used a rectangle of red construction paper on the front of the juice box and two black paper strips to make Angry Bird eyebrows. The pom pom chandelier from our Back to School Feast was perfect for the party! (Note to self: ALWAYS make the Back to School Feast colors coordinate with Eli's bday theme!) I also made angry eyebrows for the fruit bowls running down the center of the table. EASY and fun!
I figured the boys (and a few girls) would eat their pizza then run around like crazies and graze on the fruit for the rest of the party.
They did. 6-year-old boys are rad.
Then we played pin the tail on the Angry Bird.
Oh yeah, the rad thing about the kid only party… you can do kid games and the kids are totally into it!!! Eli loved explaining the rules of the game.
Piñata, of course. (I love piñatas!!!)
We finished the day with cake.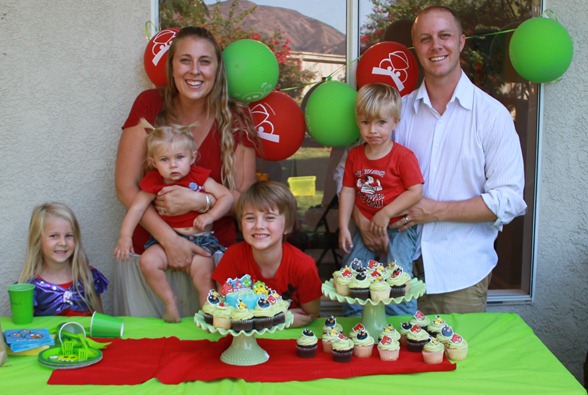 It was an awesome day and I'm so so so happy we are starting the kid party thing. It was fun and relaxing and all about the birthday boy.
Party at a glance:
Décor: Wall décor package, happy 6th birthday banner, lime table cloths, red and lime scrap fabric runners, tissue pom pom chandelier, orange ruffle wreaths and Angry Bird eyebrows on everything. (Party City or made by me.)
The menu: Pizza, pringles, veggie chips, watermelon, strawberries, raspberries, blueberries, grapes and juice boxes with angry bird eyebrows. (Pizza from Little Cesar's and everything else Sam's Club)
Dessert: Mini cake and cupcakes with Angry Bird rings on top. (Angry Bird candles from Party City and cake/cupcakes with rings from Sam's Club.)
Favors: Bouncy balls with Angry Bird faces drawn on and Piggy cups with "Angry Bird eggs" bagged up inside, aka peanut M&M's. (Balls from CVS and Angry Bird cups from Party City M&Ms from Sam's)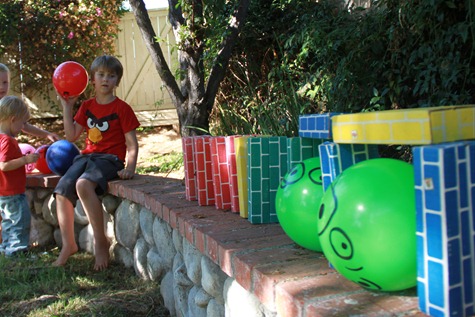 We got to see a pre screening of Wreck it Ralph in 3D last night and Eli loved it… well actually he says not to go see it in the video. But he doesn't mean that. (video spoiler alert: Ralph saves the day and the game gets fixed… whodathunkit?)
Overall, we loved the movie! Wreck it Ralph is great for boys and girls. The main characters voices, Vanellope and Ralph (by Sarah Silverman and John C Reilly) were perfection! The animation was great, and the 3D wasn't obnoxious. The storyline – what goes on with video game characters after the arcade closes – was clever. I loved the common theme of accepting outcasts and just being nice to people. (BE NICE PEOPLE OF THE WORLD.) A deeper theme was, people can make decisions to better/change their own life even if circumstances, past situations and people make it difficult… and that giant killer robot bugs can be defeated with diet coke and mentos. Life changing knowledge, yo!
My most favorite part of everything was one on one time with my eldest. He is rad. I told him, and he asked if that's what I tell all the "other kids" when I go out with them. I said yes, but he was my favorite. (I also tell that to all the "other kids" when I go out with them.) Tell your kiddo they are rad. Right now. Then take them out. Anywhere.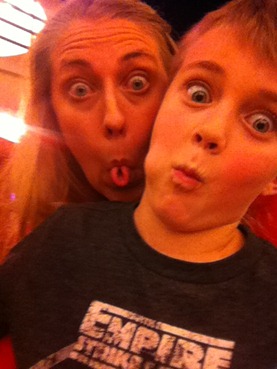 Click here, here and here for some Wreck it Ralph coloring sheets (pix below). You're welcome, for the after school activity.
More stuff:
site: www.Disney.com/WreckItRalph  Facebook: Facebook.com/WreckItRalph Twitter: Twitter.com/WreckItRalph.
I've just finished two back to back kiddo birthday parties. We love having people over and I love planning parties, but there is always the question of the guest list. You know what I'm talking about. There's the family, friends, your kids friends, school friends, church friends, people you want to be your friends… the list can really go on and on and on. And you never want to accidently hurt anyone's feelings.
We've always done a bigger party – inviting all our family, all our friends and all their kids. Honestly, I've never really thought about doing it differently until this last year when we were invited to two different parties. For one party the mom handed me the invite and said, "it's for you and Cora Jane," and the other one said "drop off or one parent" at the bottom of the invite. The parties were great and very kid centered. I really enjoyed the one with Cora Jane because the awesome host, Jaime, got to do all sorts of girly things for the butterfly theme and I got one on one time with my girl.
This year, I was planning Eli's 6th birthday, because of all our moving (church and geographical) our friend list had grown and our family list has always been big. I was inspired by the year's party invites and decided to take the plunge into the Kid Only thing.
6 would be the year.
Yep.
I will have the guts to pick and choose.
Nope.
Nope, I don't.
Let's have Eli choose.
Yeah, it's always the best idea to put all the burden on your child.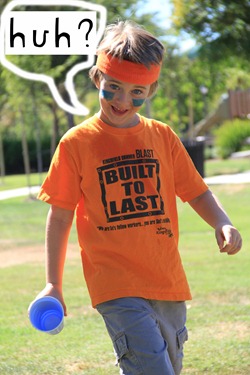 We asked Eli who he wanted to invite and it actually worked out great. He rattled off the names of the friends he plays with most, and we were done. Whew. Then there was the family. We have a very small family but our regular "family attenders" are at least 12 and that ups the guest list quite a bit.
Family dinner!
Yep a family dinner.
6 would be the year we start family birthday dinners.
Yep, I will have the guts to tell the grandparents and aunties they aren't invited to his bday.
This actually went very well. I think they were all a little bummed, but we chose a central location for an easier drive and everyone got to have focused time on Eli instead of just hanging out at a big party with 30+ kids (yes, that's how big the family parties are). It turned out great!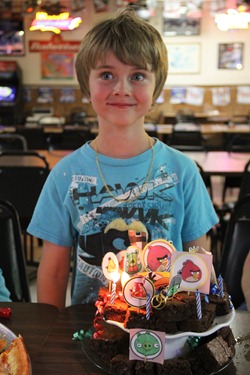 And we all know family gives the best gifts. (Thank you Yaya and Papu for padding the college fund!)
Case and point…
(This was also the first year we officially did gifts. But that's a whole other post…)
Because switching to the don't bring your family thing could be a little touchy, here's how I worded the invite for the kiddo party (see "details" section):
Your kiddo is invited to Eli's 6th Angry Bird Birthday!
Date: Sunday, September 16th
Time: 1:30pm (pizza lunch!)
Where: Our lovely home
Gifts: No gifts needed – Please don't feel like you have to bring a gift. We love celebrating Eli with time and attention most. REALLY!! But if you like, Eli loves legos, star wars and pirate stuff. And needs jeans & shorts size 8 regular… hand-me-downs would be great.
Details: Now that Eli is the ripe age of 6 we are starting the smaller party thing so we can have kid centered activities. Fun! You can drop off if you like, or one parent can stay with the kiddo invited to the party. Food and cake for all! Don't fret if you need a Lawson fix for the whole family… we are having Tessa's big 1 year party on 9/29. Let me know if you have any questions.
RSVP by Friday so I can have all the goodies ready.
So thankful for you friends
I tried to make it approachable for questions so people would feel comfortable telling me if their spouse couldn't watch siblings not invited or if they had an out of town guest that needed to come. Of course acceptations would be ok! (Am I the only one who takes an hour to write a simple invitation?) I really didn't want to offend anyone.
Now that everything is said and done, I can say the kid party/family dinner thing was AWESOME! I got to spend time on fun kid details (post coming this week) and the family got quality play time with Eli. Oh and did I mention this was way friendlier on the budget!?!? Yep!! Now the official "thing" in our family is big all-in-family-friend parties till 5-years-old then kid specific parties/family dinners starting at 6-years-old. I'd love to know what you do, or if you have better wording for a kiddo only party invitation!
Yes folks, I have to eat my words. I thought the 5K would be lame. It wasn't. I loved it.
We woke up in the "middle of the night," at least that's what Eli said when we woke him up a 5am so we could get to the race by 6:30. I'm a total jerk when I wake up not a morning person, so just getting up early was a huge feat. We bundled up (in Lids of course) and headed to the race. I wasn't nervous because I had a plan – I would run for 10 minutes and walk for 2 till the end of the race. Totally doable.
We arrived for check-in and met up with all our friends and family. It really was quite a group… Jami, Adam, Kendra, Evan, my marathon running cousin Olivia, and her equally as marathon-y boyfriend and friends, Kelly, Jeff and Katie.
I really had no idea what to expect because the longest I've ever run in one session was 22 minutes. And my treadmill doesn't have a speed or distance display. First you line up in groups sectioned out by the speed you will run each mile. I started in the 15-18 minute mile… the one just before walking. I figured it would take me about 45 minutes. I had my book on my iphone and I was ready… ready enough.
I set my alarm for 10 minutes and started jogging. I felt pretty good. Honestly, I was just having fun looking at all the random people, people watching is my favorite pastime. Ever. The Chapman 5K runs through the Orange circle and all through the old part of town so the scenery was lovely. Before I knew it, my 10 minute running alarm went off, I was feeling OK so I decided to run through my planned 2 minute break. Two minutes passed and I still felt good. And I just kept running. I thought I could run through the whole race. Maybe.
We passed a church and they had a worship band playing out front. I'm not sure why, but I wanted to weep. Seriously. WEEP, as in, break-down-into-a-snot-dripping-out-of-breath-full-on-cry-fest.
I had a moment passing the band.
I'm not sure exactly what brought it on.
Maybe because I'm a spiritual gal.
Maybe because I knew that if I pushed myself I could actually run this whole time.
Maybe it was fear of turning into a kale-eating-I-just-love-running-so-much-I-wear-florescent-shoes person.
I'm still not sure.
I rode that little high for a few minutes. Then I got tired and decided to walk. Lame, I know. Just as I was about to kick it down a notch, our friend Adam caught up with me. FYI, he was only behind me because he was pushing a stroller. Damn. I couldn't walk now. Not with him still running… WHILE PUSHING A DOUBLE STROLLER. So I kept running. Huffing and puffing and pushing myself.
We went full circle on the run and got back to the Chapman University campus. I passed some bloggy friends and then my family cheering for me. That was cool (really cool) and I was just cruising along. Then one of those bloggy friends joined me for the last half-mile ish of the race. Kelly. Kelly who was running a marathon the next day. Kelly who works for a race wear company (Team Sparkle). Double damn. Cruising was over. OVER. Now I was getting a personal running coach. We started "picking people off" as we got closer to the finish line. She was super encouraging and my last mile was actually my fastest. Just over 10 minutes!
I finished the whole thing in 35 minutes and 4 seconds. WOW.
I felt so accomplished!!
I was proud.
I radiated delight.
I was going to throw up.
Seriously.
Queasy central. I was thinking I shouldn't have stopped so abruptly and I was looking for a trash can. I didn't up-chuck (that's what we call it around here). Thank God.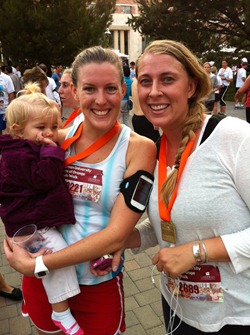 I found my family and friends. It turns out Kelly got second place in his age group. We hung out for a while eating oatmeal while watching Kelly in the awards ceremony, my kiddos were wide eyed over my "gold medal" then went out to eat. I'd say that was a pretty productive morning. My favorite kind of time – a unique healthy outdoor family/friends fun day.
I loved it!
Here's what I learned for my next race… yes, I'm doing this again. I think the Turkey Trot in Dana Point. Wanna join??? Anyway, back to what I learned. The morning of the race I bundled up in warm pants loose too-big-for-me pants and and long sleeved non-running top over my tank top. My pants were falling down the whole first part and my tee was sweaty and cumbersome by the end. Running clothes for sure. I think I want an arm band for my phone so I don't have to hold it the whole time. And I think a sparkle skirt will make me run faster.