Archive for September, 2012
We have a yard at our new house. I love it. It's my flavor-favorite thing about the house. Because our home was a foreclosure with 20 people living in it before us (prison ankle bracelets involved) the yard was in various states of disrepair. Every weekend we remove a bush or move a plant. And sometimes we just like to break sprinkler pipes and spend the rest of the day googling how-to videos about plumbing. We are cool like that.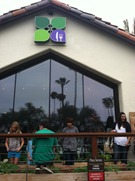 It's my dream to have a fruit and veggie garden in our side yard. I had no idea where to begin, then I went to this amazing garden class at Greenleaf Chopshop hosted by Harvest to Home! Greenleaf held the classes on Saturday mornings at 10am through the Summer. I really hope they do more classes. I think this would be a great activity for moms groups through the year as well (call them)! I took Eli for some mommy time and to help foster his gardening dream. The class was great! The teacher/owner Mike Saralyian, really got the kids involved by touching and tasting all the different herbs and veggies.
We did a tour and hands-on lesson in the Harvest to Home garden. Then the kiddos got to plant their own herb. I think we got basil (can anyone tell me for sure?) and it has grown so well (see the pic below right before I trimmed it for some pasta I made). I really think the plant has thrived because of the self watering pot we got at the class. It has a spout at the bottom and that you fill with water and it gets right to the plant roots and the soil is covered with coconut husk chunks that keep in the moisture.
Harvest to Home is a pretty unique gardening service. They come to your home to set up your own home garden! They do all the hard stuff and then you get the benefit of an organic grocery store in your yard. I would love love love to do this someday when the budget allows. Check out these videos about how it all works.
Here are a few beginning gardening tips I filmed with Mike about doing a Summer garden (I know I'm late for summer… just pin it in your memory bank for next year).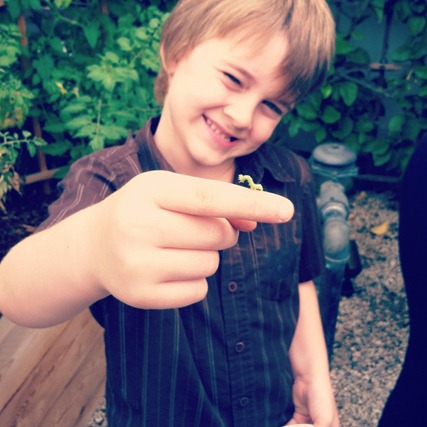 P.S.
I really loved the décor at Greenleaf Chopshop. I was trying to figure out a way to smuggle out this giant mirror and barrel planter. I'm thinking something Lucy and Ethel-ish… who wants to dress up in "exterminator" disguises and help me load these puppies into the back of my minivan????
Seriously.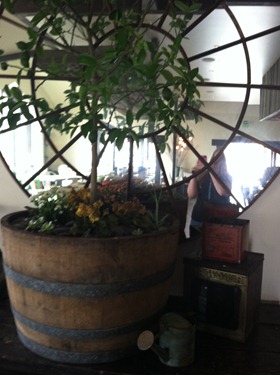 If you follow on Facebook and twitter, then you saw my big announcement yesterday! We've launched a new Lid style AND a new site. The Bohemian Lid over at Every Moment Clothing.

No fear my friends, Eli's Lids isn't going anywhere! Just making room to grow into a whole clothing line Squeeeeeee!!! (And grow our vision!)
We'll have two colors ready to stuff those stockings! Yay! But we are waiting for one thing… YOU! You get to vote on the first two colors we run. Check out this post at Every Moment and vote for your two favorites. And don't forget to fan our new Every Moment page on Facebook.
Smooches friends!!
I've got your back.
We are slowly getting into the daily back to school routine and it hasn't been easy. We are so happy with Eli's teacher and I've been walking to school with all the littles so I'm logging 2.5 miles a day of exercise! (More on my new-need-to-share-exercise-routine soon!) All 4 kiddos pile into the stroller and I look like a fertility goddess. It's quite comical. Anyway,to honor the first few successful weeks of school, I 'm thinking I should do a giveaway from RoseArt andThe Board Dudes.
RoseArt is truly a company that thinks outside the page when it comes to all things art for lil kids and The Board Dudes are just plain coolio! It's a HUGE prize pack that will put some fun into your back to school supply list! Here's what's included for the winner… From RoseArt: Color Blanks – in motion, 32 count white and colored chalk, 24 crayons, 5 paint brushes, 12 SuperTip classic washable markers, 10 tubs of fun dough. From The Board Dudes/The Write Dudes: 12 Infinity permanent markers in neon, scribble stuff – 8 owl pencils erasers and sharpener, 8 metallic ink gel pens, junk food puzzle erasers, 10 No 2 pencils, 8 2 in 1 dry erase markers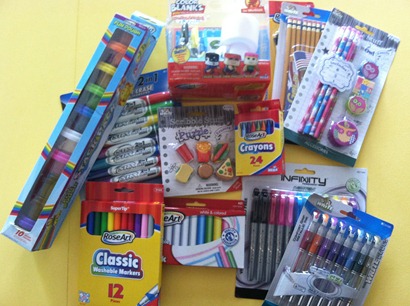 All you have to to do win is head on over to my post over at OC Family and leave a comment with a back to school tip for me. (one entry per person)
Here are two tips from me:
#1 On bath nights I dress my kiddos in their outfit for the next day and they are already ready in the morning. (Don't judge! I have 4 kiddos 6 and under and work from home. This is a tip I never admit to anyone but you will thank me later!)
#2 Buy a few packages of the Scribble Stuff puzzle erasers (pictured below and only $1.99 for a pack of 6) and wrap each up individually as gifts for the class. Kids go ape over the lil' things and it's a practical cost effective class gift.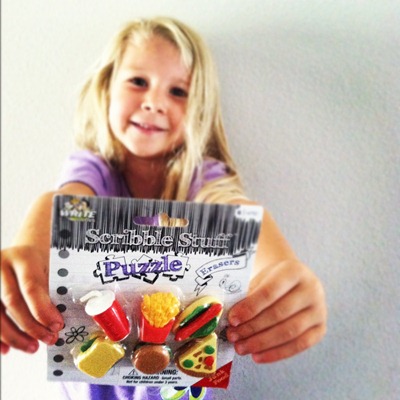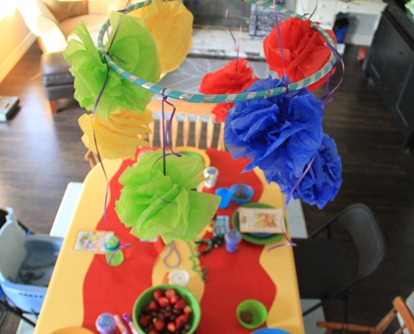 This year's Back to School Feast theme was Psalm 25:5 (see last years here)
"Guide me in your truth and teach me, for you are God my Savior and my hope is in you all day long."
During dinner, Brad talked about growing in faith and wisdom. He talked about how we are set apart and that if we are sad we have true hope in Jesus. We can depend on God ALL DAY LONG. No matter what. All the time. Then we gave Eli a special blessing for the school year.
The décor was all circles, color and silly.
Table settings:
~Red wrapping paper cut in a wavy line as table runners
~Bright beaded necklaces down the middle of the table
~Colored 3×5 cards as name plates
~Mismatched colorful dinnerware
~Molding foam and a back to school book for each guest for dinner play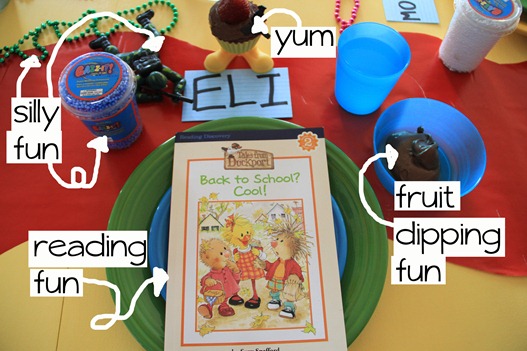 I made this poof chandelier with a small hula hoop, curly ribbon and tissue paper. (Thanks Amanda!) 1) Stack 6 pieces of tissue paper. 2) Cut piles into 4 squares. 3) Stack into two piles, 12 pieces in each pile. Set one pile aside and fold the other one like a fan. 4) Tie a length of ribbon to the center of the fan (you'll have a bow shape). 5) Separate tissue pieces and fluff into a poof shape. 6) use the extra length of ribbon to hang around the hula hoop.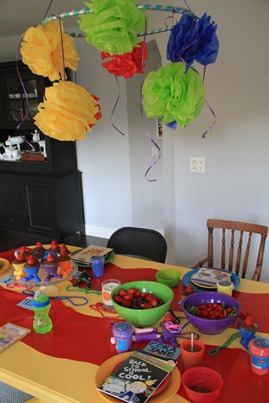 Menu:
~Ravioli with meat sauce
~Spinach salad with carrots and cherry tomatoes
~Strawberries, blueberries, grapes
~A dollop of nutella for fruit dipping
We wore the necklaces from the table, read the books during dinner and let the kiddos play with the toys (a treat around here).
Dessert:
~White cake (dyed blue with food coloring) with chocolate frosting and a strawberry on top. I baked them in these neat silicone cupcake thangs I got years ago. They have feet and they are adorable.
We had so much fun! I feel like this celebration sets the stage for a great school year. We have our feast the night before school starts, but I think it would be fun to close out the first week too! (I spent less than $20 on the supplies at the Dollar Tree!)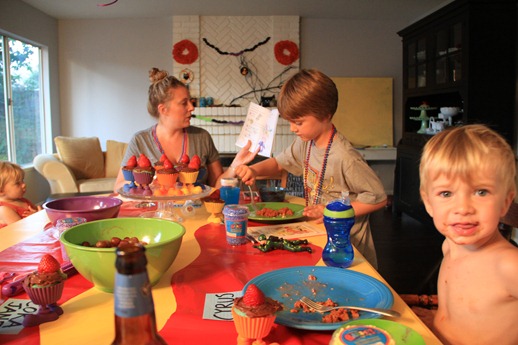 The next morning we took pix, walked to school and said goodbye.
I missed that lil' fella!
While Eli was at school we baked cookies, then ate them later while he told us all about his day. That was special too. I think I'm gonna like this new phase of life. I think I don't have a choice. My time stopping remote control is broken. I keep trying to hit pause, but it's stuck on fast forward. I can grasp on to what's already gone or look ahead. I'll choose to look ahead. I choose joy. And eating cookie dough. Yep, eating lots of cookie dough sure does help.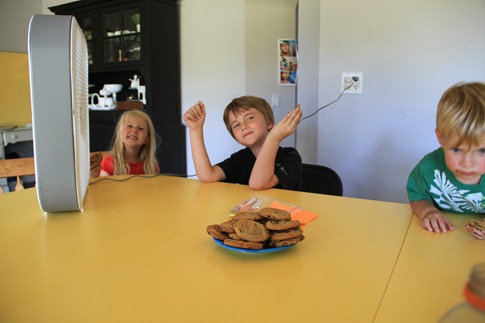 Happy 1st week of school!
Summer is over. Blarg.
It was busy. A good kind of busy. The kind of busy that means I don't get to update here as much as I would like. But that's part of the reason I officially made this a personal blog. Here is a summer recap… with a HUGE biz update at the very end!
We had our annual Back to School Feast last night and Eli started Kindergarten today. I didn't cry but I sure did miss him. The feast was awesome and I'll share details in another post soon.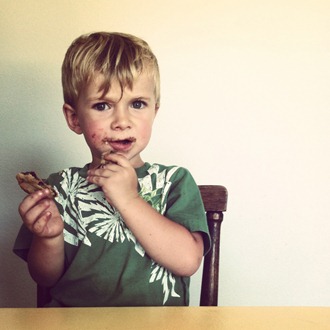 We had the bestest time at Pageant of the Masters with our friends! (The crazy girl behind me is my friend Amber, check out her foodie web series at The Stomach Rules!) It was a great time without kiddos for a night. We were blessed with a night at the St Regis. Where they have butlers. Butlers who organize all the makeup thrown on the counter.
As you know, I'm embracing the Invisible Work that comes along with motherhood. This involves cleaning and moving furniture. My husband loves the furniture part, as seen on a screenshot of our texting.
Scenes of Summer…
My favorite summer pic…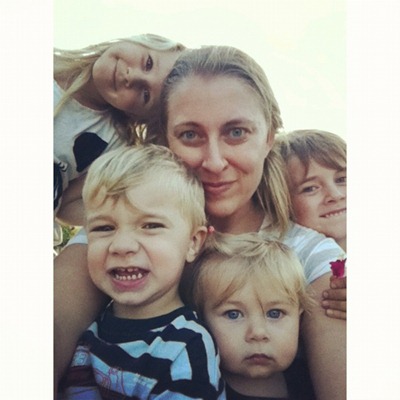 A lil' biz update…
Thank you thank you thank you for all the support with Henry – buying Fedorables and by spreading the word about his fundraising! I'm excited to share, the Hill Family received almost $2,500 in the iPad raffle. I'd like to think our kick a&$ video made all the difference.
We were featured on BabySteals. I love them. Thanks for all the kind words you put on their awesome FB page about us during the steal. It means a lot to me. REALLY. I love BabySteals so much I hope to do a lil' secret surprise with them in January-ish.
Speaking of secrets… I can't reveal it all, but samples for our newest Lid are in route. (Squeeeeee) 
Many colors. (Squeeeeee)
And you get to vote on the two we decide to sell. Voting involved. (Do you like that idea or is it lame?) 
Maybe a new site… It will be rad