Doesn't it seem like our lives are just a series of random events?
I'm linking up with Life Rearranged's InstaFriday  to document all the randomness!
Because phone pix rule.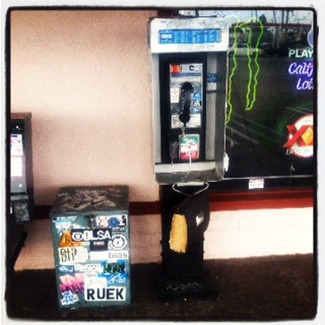 Eli saw this at The Lil' Pickle and asked what it was.
A thing of the past, son.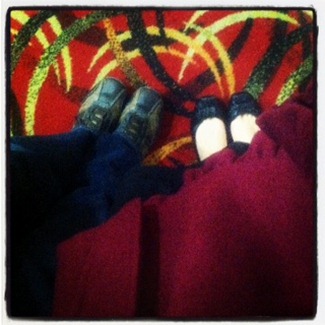 Date night with my sweetie.
Tess dressed in Cy's tee shirt and Cy dressed in Cora Jane's PJs. I never would have done a gender clothes swap with my older two.
Ya live, you learn, and laundry goes on.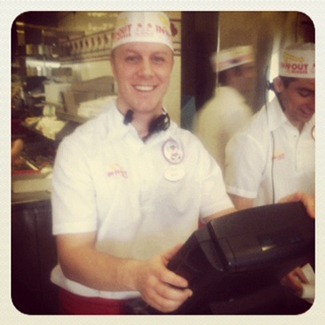 Every year my hubby gets to work in the store again.
I think he looks hot.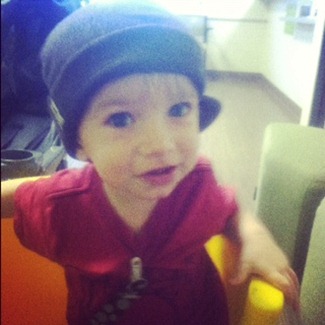 Cy got 4 more viles of blood drawn for more tests.
Boo.
But he sure does look cute in his Heather Brown Snowboarder Lid!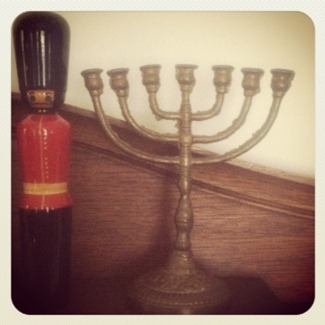 While unpacking Christmas stuff, we found out my parent's menorah from their trip to Israel over 30 years ago, actually isn't a menorah. It has been rename a kenora, because that's how Cora Jane pronounces it. I still think it's adorable.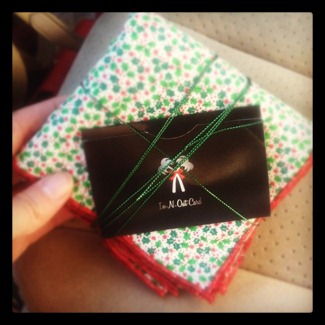 The final Christmas giftie for Eli's teacher (thanks to input from FB friends) was a gift card for some yummy and homemade (by my mom) Christmas napkins.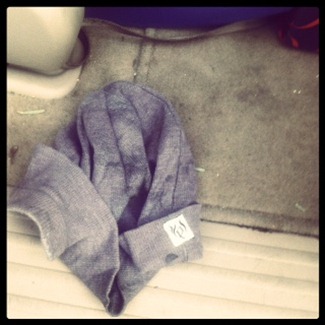 Our minivan door was jammed and Hot Hubby found a Lid in the mechanism!!
I thought we left it in a restaurant.
3 years ago!!!
Needless to say our Lids cannot withstand 3 years in a minivan door.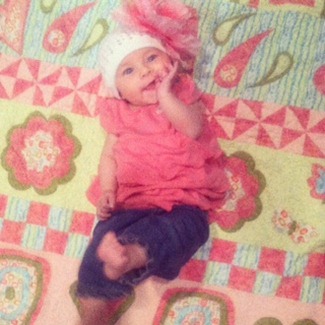 Tess is 3 months old.
She is the happiest lil' gal ever.
Do you just love that flower. It was a gift from the gals at Babysteals. LOVE THEM!!!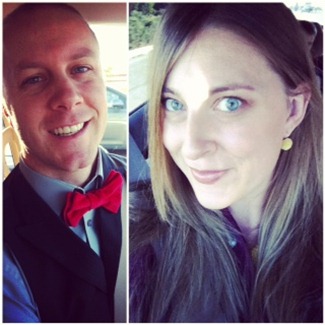 Flare for the Christmas Eve service. I can't believe I got Hot Hubby to wear a bow tie. I may have promised to wear it at a later date and time if he wore it to the service. (wink) My hair looks super dark in that picture an I'm thinking I might go that color in real life.
Thoughts?????
Santa came to our house on Christmas Eve because he knew we were flying to Ohio on Christmas Day. He is so smart! Hot Hubby surprised me with Swing Dance lessons!! Something I have wanted to do since we were married. He did good, really good.
I'm on vacation in Ohio right now (having a blast!!) but I have so many awesome things to share with you (no mom, I'm not preggers). Like really awesome help-a-little-boy-come-home type things.
I know for a fact santa is wrapping gifts tonight.
Right after going to Denny's, because kids eat free Tuesdays (thanks for that tip Jill!) and checking out the Brea Christmas lights.
I love wrapping gifts in general. They just look so lovely under the tree or stacked up at a birthday party. After Eli was born I got rid of any Christmas wrapping paper with Santa on it (you now know I have a bit of an anti-santa decorating thing). Then this past year I went through The Great Gift Bag Purge.
Please tell me I'm not the only one who saves gift bags from gifts I receive??!?
I had a HUGE box filled with gift bags. I even had some from my wedding and Eli's baby showers. They were nice,they were cute and they were free. I used them, but the bags in the box just kept accumulating. When it came time to move I decided to reinvent my gift bag stash (aka Hot Hubby said he wasn't going to move a giant box of empty bags… makes me think of my old container stash). I now only save plain colored bags or get plain ones from the dollar store. I use fun tissue paper and then print out the first letter of the giftie's name in a silly font. So cute right??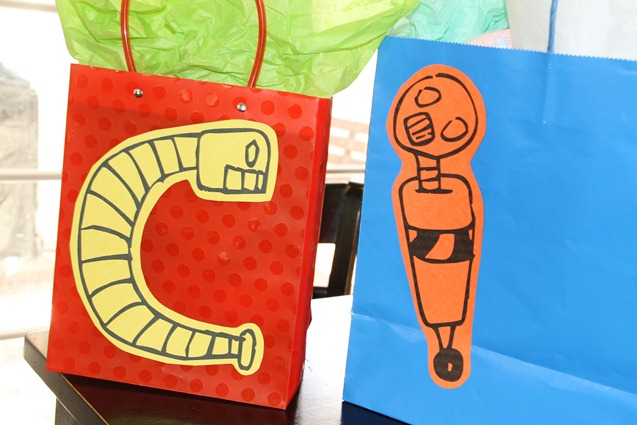 So cute and a little more personal right???
###
My neighbor just told me about First Christmas Gift Wrap. It's super cute. And since we stay away from the santa thang, this is right up our alley.
This one is my favorite…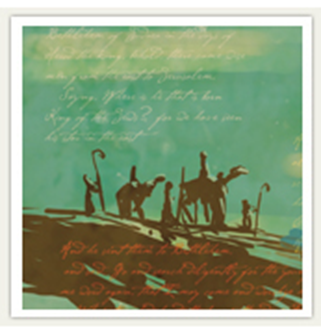 Check out the First Christmas site and their blog. Or if your child has done some cute Christmas drawings you can enter their Christmas drawing contest (ends today!!). See the details here.
Did I mention the paper is printed in the USA!!!
YAY!
… that is the question.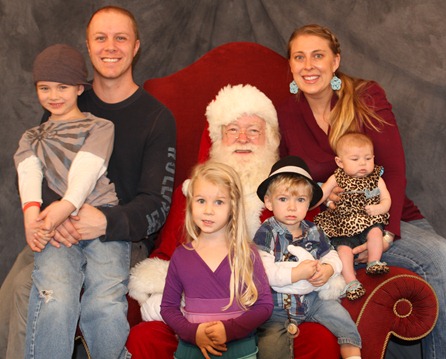 He's got twinkly eyes and a tummy that giggles when he laughs, just like me, what's not to like?
In faith based families the "santa thing" can be blown out of proportion, whether you celebrate with him or not.
Ethically we have no issues with santa. Why? Well, many Christmas traditions people don't seem to be worried about are taken from pagan holidays: The date – December 25th was the last day of Saturnalia. In the 4th century, Christianity allowed the celebration of the Roman Saturnalia festival by changing the meaning to Jesus' birth, to help convert the pagan masses. Gingerbread Men – During Saturnalia people would bake human shaped cookies in honor of the human sacrifice on the last day of the festival. Caroling – Singing (naked) in the streets during the festival. Christmas Trees – Pagans who worshiped trees would decorate them and bring them into their homes. This list goes on and on…
Anyway our thought was, if most of our Christmas traditions are derived from pagan traditions, than what is the big deal with santa? Well, some people believe the original pagan origin is pretty crazy (Nimrod)… think baby killer coming down the chimney. Some people think santa origins are Saint Nicolas (we go more in that direction). But the modern version first came around after 'The Night Before Christmas' poem became popular.
If the kiddos asked me straight out "yes or no" if santa was real, I would tell the truth, but say we choose to honor the American tradition because of the kindness and legacy of Saint Nicolas and because it's a fun way to remember the Truth of Jesus' birth aka fulfillment of Jewish prophecies. We feel we can attach our own meaning to traditions. And since there really isn't anything new under the sun it's likely that most traditions from any holiday can be traced back to something yucky. If we didn't do santa because he isn't real, then would we not do the tooth fairy, fairy tales, the Easter bunny, or that mouse that talks at the happiest place on earth?
I think what it really comes down to is the fact that I celebrated Christmas with santa as a child, with very little spiritual tie-ins, and my faith in God (or my trust in my parents) wasn't shattered when I found out it wasn't real.
Oh, and it's hella FUN!!!
But as far as what we actually do…
~We don't have any santa decorations – we use stars, angels and nativities.
~We don't make an event of going to see santa, but Hot Hubby's company does santa pictures for free at the Family Company Party and we usually end up seeing santa at other events. I think santa pictures are a fun tradition to see how kiddos grow over the years.
~santa brings the kiddos 3 presents just like the three wise men brought Jesus 3 presents. Last year santa brought the kiddos something they needed, something they wanted and something educational and I tied that into the purpose of the gold, frankincense and myrrh. But it was kinda a stretch, and they really didn't understand.
~We talk about how Saint Nicolas was a real person – this veggietale was really helpful.
~We haven't written santa a letter yet… but my kiddos can't write so we really haven't had to choose what we will do. A part of me thinks that it is taking the "fun santa thing" just a bit too far and another part of me thinks it would be a great keepsake to see how their writing progresses and what their perspectives were as children.
~We talk about the "tradition of santa" but have never actually said santa was real. Any questions we have gotten usually are redirected to our beliefs – celebrating Jesus' birth (which we don't believe was actually on Christmas… whole other post!), prophecy, etc.
~santa doesn't watch us through the year to see if we are good or bad. He is strictly a present bringer not a behavior judger.
I'd love to hear what you do or don't do and why!
Below are some interesting Christmas reads. Some are super extreme!!
The Origin of Christmas from Last Trumpet Ministries
Sometimes after folks buy Lids they send me pictures of their adorable kiddos wearing them (or post them on our Facebook page).
I love it.
Like really LOVE it.
Because I really think people who buy Lids are my friends.
Is that weird??
Anyway, each Sunday I feature one of the Kids in Lids pictures sent to me!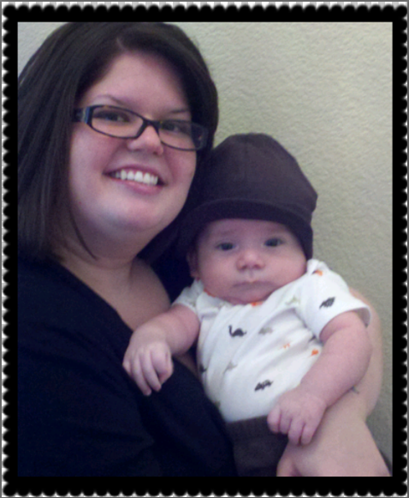 This is 2-month-old Micah with his mama Jennifer wearing the Method Brown Lid. Don't you just wanna snuggle that lil' guy!?!?! (Jennifer, I love your glasses!)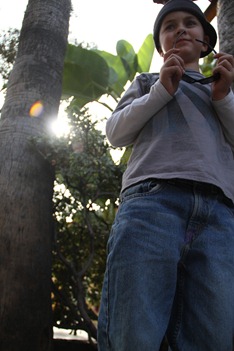 Eli – "Is there Christmas in heaven?"
Mommy – "Oh Eli, in heaven it's like Christmas every day because we are actually with Jesus…"
(insert melodic music as I give an amazing Bible lesson about the awesomeness of heaven)
Eli – "So Santa and all his reindeer are dead!!"
Mommy – "Say what??"
Eli – "If there is Christmas in heaven, and you have to be dead to go to heaven, then Santa and all his reindeer must be dead."
(my mind is racing: what was the original question?… oh yeah, Christmas in heaven… gee, he sure is smart to make those connections… funny how he added the reindeer into the mix… focus self!!…)
Mommy – "Santa isn't dead." (I know, not the best answer but I was thrown for a loop!)
Eli – "So, there is no Christmas in heaven?"
Mommy – "Not really…"
He was satisfied with that. But like most sensitive topics I'm glad I got a bit of a prequel before the bigger conversation. We do celebrate Christmas with Santa around here but we also have some pretty solid beliefs about the whole thing.
I'll share in a couple of days, so get ready to share what you do on my next post!