It's no secret that I'm a huge fan of the blogshpere! I mean, I put together the whole MOMday Morning thing (along with Blessed Nest and B.Y.O.G.) just to thank all our blogging buddies for their support!
 I'm getting some lovin' back from my buddies at Blog Crush as a featured blogger today. Check it out. And if you are in the OC - join! We are super cool.


 My post about perspective (my buzzword this year) went through some post editing and ended up on a new collaborative writing site called Smartly. Read it and cry… I do every time.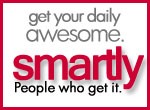 A picture of Cora Jane from twitter was featured over at Wright Creatively. It was taken while she was eating her after-shot-ice-cream. Kristen features a phone photo every Friday. If you have a fun one, send it in!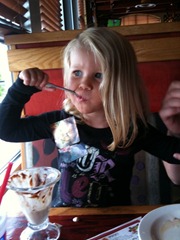 And now I have to figure out what to make for lunch:
Milk for Cyrus. Check.
Food for me and the kiddos… um. The fridge is empty.
REALLY.
What you don't believe me.
Here is a picture to prove it…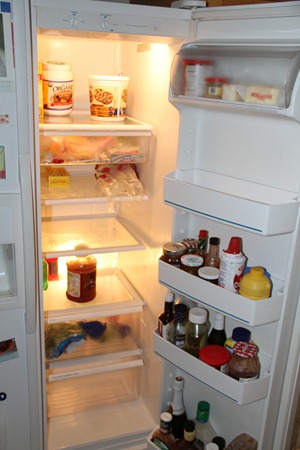 Looks like cookie dough, spaghetti sauce, flax seed and condiments for lunch.
Or we can walk to subway.
Because I walk like 2-4 miles everyday. (Since 3 days ago)
I never got to tell you about our Father's Day because my water broke the next day and I was a bit sidetracked with all things baby (and loving it!!).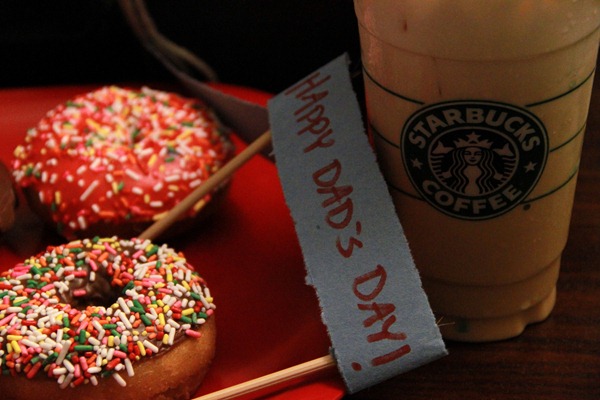 Our plan was to spend time with "Daddy." We thought we would go out to breakfast then hit up the beach or Irvine Regional Park. But because of a work emergency Hot Hubby worked all night long (from 11pm to 4am). Needless to say, he slept in. I took the kiddos out for donuts and had an impromptu idea of making a small donut cake, complete with banners) and surprising my tired love with his favorite coffee.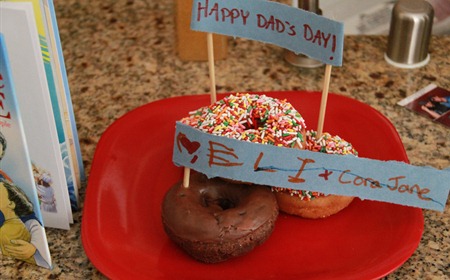 The kiddos and a VERY pregnant me worked on this at a table outside the donut store and everyone who passed commented on how creative we were.
I wanted to say… "Um, if you think stacking donuts is creative, you should see my business!"
It really was a simple idea and it looked cute.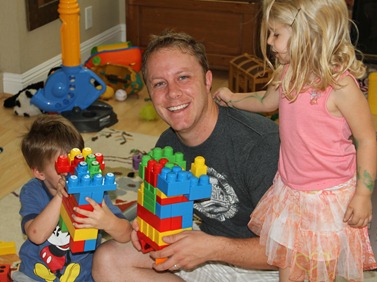 Thanks Lover, for being the best Daddy to our kiddos ever! And for not caring if I don't ever always make dinner. You are truly the most amazing man on the earth!!
Yep, I just typed that… and I mean it. How do you like them apples!?!?
Today I'm flying home from Colorado.
It's my 30th birthday.
I don't mind.
I'm flying with my family whom I love.
To a home I love.
I ended last year's birthday post with my lil' family taking me out to lunch.
Now find out what happened the rest of that day…
We were sitting at Red Robin because the birthday girl (ME!!) was craving a Bonsai Burger (yummy!). It was right after some law passed saying Nutrition Facts had to be displayed at restaurants.
Um… yeah.
I didn't enjoy my Bonsai burger & steak fries very much knowing I was eating over 3000 calories! I mean I could have guessed it was about that much but actually seeing it in print ruined it for me.
Just before we finished our meal I noticed Cora Jane had a contemplative face… like REALLY intent on something.
Um… yeah.
She was concentrating on a HUGE poop blowout! As in poop pouring out the back of her diaper, onto the high chair and pooling (yes pooling) onto the floor!
We have never seen anything like it. Or since then!
I did a quick clean up, made a beeline to the car for damage control while Hot Hubby mopped the rest with strict instructions for the manager to boil the high chair.
We still had errands to do but Cora Jane's clothes were… um… yeah, DONE!!
We took our naked baby into Walmart to get anything that might cover her up for the rest of my birthday outings.
We ended up finding the cutest dress ever!!
For $5.00!! You gotta love that place, even if you hate it!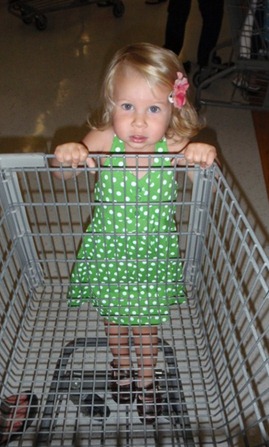 Happy Birthday to me!!
I'll let you know how the flight was

I got this adorable dress at Walmart, wanna share something you blogged about this week? Add to our "I got it at…" carnival in the comments below:
Ocean "Art"

I love reading about what Kara Noel loves and collects.
I don't really think of myself as collecting much of anything. Looking around my house – two things are clear. I love the ocean.  I don't like to spend money. There's the framed Bed, Bath & Beyond paintings which I'm sure I got on sale and with the 20% off coupon that comes in the mail. The carpet is nautical navy. The walls are the color of sandcastles. Our throw pillows display surfboards and palm trees.
So this is the latest in my cheap art collection: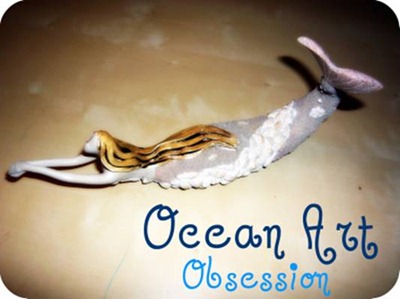 My daughter and I picked this $19.95 gem at the Sea Life Aquarium gift shop. We both loved it. It makes me happy to look at my mermaid muse. I love it when my hair swirls like that in the water. The barnacles on her sandy flipper. It makes me so much happier than those $2 pencils or $5 Beanie Baby dolphins. My daughter loves her, too.
Now I just need to get a frame for the print I got of this mosaic on the floor of the Imiloa Astronomy Center in Hawaii: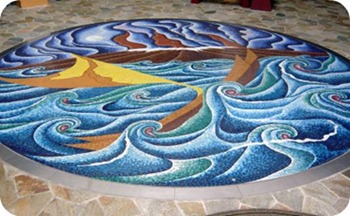 I'll probably use that 40% off coupon from Michael's.

Michele Whiteaker is obsessed with parks because most of them are free. Check out her Fun Orange County Parks blog to discover playgrounds with views of the Pacific.